Each order (license and/or hosting) includes one free installation, if compatible hosting is available (see requirements). Additional paid installations can be ordered, as necessary.
Contact VideoWhisper staff if you require assistance. Include WordPress admin details if you already have WP installed.
Sections on this page: Install WordPress,  Install Plugin, Configure Plugin, Configure Pay Per View, Setup Membership, Customize.
First step to using a web host is pointing your domain from registrar (where you registered it) to the name servers specified in hosting info: propagation of new DNS settings usually takes few hours. When domain points to correct web host, installation can be started:
I. WordPress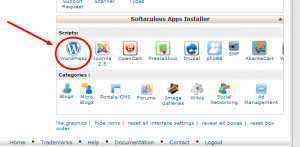 This solution is based on WordPress framework. WordPress should be installed and running first. On VideoWhisper recommended hosting, WP installs automatically from CPanel Softaculous (VideoWhisper staff can also install WP for you on these plans).
On 3rd party hosting, our staff can install WP manually for an installation fee.
Path: WordPress should be installed on root of domain/subdomain, not in a folder like wp.
HTTPS: Some browsers like Chrome require HTTPS for allowing publishing of webcam: WordPress URL should be configured with HTTPS if supported by host.  VideoWhisper plans include SSL certificate and automated HTTPS configuration (becomes available shortly after pointing domain to web host).
II. Install PPV Live Webcams Plugin

Before installing, make sure your hosting environment meets all requirements.
Certain features (if needed) require specific hosting: HLS/DASH delivery requires Wowza and FFMPEG transcoding support, archiving streams import / playlists requires web and rtmp on same physical server, performer videos / teaser video  requires FFMPEG and specific codecs. Depending on features you need, you should compare rtmp hosting options. All features are available with VideoWhisper turnkey managed, Wowza rtmp based, hosting plans and dedicated servers.
If you're not hosting RTMP with VideoWhisper go to RTMP Application Setup for installation details. If you host with VideoWhisper, hosting details contain ready to use RTMP address(es), depending on hosting type.
Search for the PPV Live Webcams (in exampled by keyword "videowhisper") and install it directly from WordPress admin area (recommended).
OR
download latest WordPress Plugin zip version and copy the files from the zip file including folder structure to your wordpress plugins folder: you should obtain wp-content/plugins/ppv-live-webcams/ppv-live-webcams.php .  After upload installation, upgrade to latest version from WP repository (usually more recent that snapshot available for download).
III. Configure Plugins from WordPress Backend
From Live Webcams > Settings > Server tab in WP backend,  configure settings (it's compulsory to fill a valid RTMP hosting address).
If available (depending on hosting type), configure addresses for archiving, recording and also options in Mobile: HLS/MPEG-Dash tab.
From Appearance > Menus add Webcams and optionally the Performer Dashboard pages to main site menu
From Settings > Permalinks enable a SEO friendly structure (ex. Post name)
From Settings > General enable Membership: Anyone can register. Plugin will create and show roles on the default registration page (usually accessible at /wp-login.php?action=register ). You may need to add registration link to a menu, page or a widget if not accessible to your users.
Edit Categories from Webcams > Categories. Webcams use global site content categories.
Install, enable and configure a billing plugin, setup PPV (described in a new section below).
Optional: Install, enable and configure plugins for performers to upload videos and pictures to their profiles: Video Share VOD and Picture Gallery.
Optional: With the Paid Membership plugin, users can buy membership using same token system used for tips and pay per minute.
After testing main features: Customize visual identity, setup Privacy Policy / Terms of Use and other pages required for your project.
Troubleshooting: You can resent main plugin settings from Reset tab in backend. Plugin also shows default settings for key customisations, if you need to restore specific defaults.
Recommended Plugins
IV. Pay Per View (PPV): Pay Per Minute (PPM) Setup
First install myCRED and/or WooCommerce Wallet WordPress plugin. These wallet plugins require configuration as described in section below.
Select Active Wallet to use with solution from Live Webcams > Settings > Billing Wallet .
If activating both wallets, also configure Multi Wallet settings: Show will display balances for available wallets, Manual will allow transferring to active wallet, Auto will automatically transfer all to active wallet.
From Live Webcams > Settings > Pay Per Minute tab setup:

client cost per minute
grace time
ratio earned by performer
minimum balance to request show, continue show
optionally, performer cost per minute for other type of service scenarios

From Group Modes tab configure cost per minute for paid group chat modes and special user modes like Voyeur, 2 Way.  Client sessions in paid/free can be reviewed in Live Webcams > Session Logs .
From Tips tab configure tip options, earning ration, cooldown.
From Cam Listings tab configure currency/credit labels.
Wallet Configuration
MyCred Wallet Configuration
Enable buyCRED addon and configure at least 1 payment gateway for users to be able to buy credits.
"Thank You Page" should be set to "Webcams" and "Cancellation Page" to "Buy Credits" from from buyCRED settings.
This addon allows users to buy credits with multiple gateways:

PayPal Standard
Skrill (Moneybookers)
NETbilling (supports adult sites)
Zombaio (supports adult sites)
BitPay (bitcoin)

Extra MyCred billing gateways are available for additional  fees (2checkout, ComproPago, CoinBase, CoinPayments, PayFast, Payza, Robokassa, Stripe, WePay) from myCRED store.

Setup a page for users to buy credits with shortcode [mycred_buy_form].
Optionally, setup a page for users to see private shows they paid for with shortcode [mycred_sales_history].
Optionally, you can use the Sell Content module to also sell access to public video chat for certain webcam posts.
Select "Webcams I Manually Select" as Post Types you want to sell in Sell Content settings tab so access to webcams can be sold from backend. You can also configure payout to content author from there (Profit Share) and expiration, if necessary.
Important: Selecting All for any post types (pages, posts, webcams) will make ALL inaccessible without payment.
WooCommerce Wallet Configuration
Install and activate WooCommerce, required for Woo Wallet plugin.
Configure WooCommerce payment gateways from WooCommerce > Settings, Payments tab.
Activate WooWallet plugin. Configure WooWallet > Settings and enable payment gateways you want to use.
Setup a page for users to buy credits with shortcode [woo-wallet]. My Wallet section is also available in WooCommerce My Account page (/my-account) if you add that to your site menus.
WooWallet supports multiple free and premium payment extensions:

PayPal (Standard, Checkout)
Stripe (CC, Apple Pay, Google Pay, SEPA, Bancontact, Sofort, Giropay, EPS, iDeal, Przelewy24, Alipay, Multibanco)
Square (CC U.S, Canada, Australia, Japan and the UK)
Amazon Pay
PayFast
Venmo
eWay (SG, MY, HK, AU, NZ)
Klarna (now, later, slice)
Authorize.Net
SagePay (UK)
WorldPay
2 Checkout
… and more
V. Membership Access Setup (Optional)
In addition to PPM for private chats, access to public chats can be restricted to paid members only (in example by charging a small fee of $1 for age verification of performers, instead of free performer registration ).
First install a membership plugin to manage paid member roles.
With the Paid Membership plugin, users can buy membership using same token system used for tips and pay per minute.
For direct membership purchase, the free s2Member plugin allows setting up paid Paypal membership roles.
Setup at least 1 paid role that members get by purchasing membership.
From Live Webcams > Settings > Client configure access to public video chat to paid roles
VI. Customize
Theme: Get a professional WordPress theme to skin site, change design.
A theme with wide content area (preferably full page width) should be used so videochat interface can use most of the space.
Some tested themes: Jupiter, Impreza, Elision, Sweet Date 4U.
Logo: You can start from a professional logo template.
Contents: Site pages, menus, categories and sections can be edited from WP CMS backend.
Most sites require Privacy Policy, Terms of Use pages. Adult sites in US jurisdiction also require a "18 U.S.C. 2257" compliance and contact info page.
Other pages for policies may be required depending on site jurisdiction (business location, provider/client location). Content of these pages depends on each site, business: you may find some samples/templates to start from online.
You can add pages from Pages > Add New in WP admin area and then add these to your menus from Appearance > Menus.
Translation: Plugin is localized, meaning a .pot file that contains mosts texts is included. Multiple translations for plugin are available as .po/.mo files and you can also edit/adjust or add new languages using a translation plugin. Videochat application texts can be translated from plugin settings.
Settings: Available plugin settings and options are documented in plugin backend and organised in multiple sections:  Server, Integration, Cam Listings, Performer, Account Records, Features, Profile, Client, Studio, Group Modes, Presentation, Pay Per Minute, Tips, Billing, Videos & Pics, Scheduler, Mobile: HLS/MPEG-Dash, Translate, Reset.
Features: After ordering solution and setting up existing editions, VideoWhisper.com staff can customize these for additional fees depending on exact requirements.
Software consists of videochat app that can be customised with parameters / by replacing interface skin images and the integration code (plugin) including php, js, css, settings that can be changed as needed. New options, features or changes in the app can be implemented by VideoWhisper developers.
Design/Interface adjustments:
After selecting a theme to start from, that can be customised by a web designer experienced with WP themes. A WP designer can also create a custom theme (that meets WP coding requirements and standards).
Solution specific CSS (like for listings and user dashboards) can be edited in plugin backend.
Videochat skin graphics can be edited by replacing interface images. Videochat application layout and functional parameters can be edited in plugin settings.