Solution can be used in multiple modes (predefined configurations) referring to group chat, users, application.
Read on this page about: custom room modes, special user modes, random videochat, presentation mode, interfaces.
Custom Room Modes: Group Videochat Modes

Performer selects room mode when going live.
Administrators can define custom group modes (unlimited number) with different settings from backend, depending on site theme.
Sample group modes : Free/Paid/Platinum, Evaluation/Consultation or Free/Topless/Nude on adult related sites.
For each mode can configure various settings like cost per minute (0 for free modes), special modes, automated periodic webcam snapshots, archiving webcam stream and automated publishing of archived streams as videos.
Group mode is selected by performer. Performer selects mode when going live (before starting session).
Group PPV: Performer can also start room in paid group mode. All users that enter get charged per minute after a grace time. Group cost per minute can be seen in listings and in room when accessing. Admins can define multiple custom group modes (ex: free, paid, special) with different cost per minute and special user modes.
If enabled by admins, performers can define their own custom group pay per minute rate.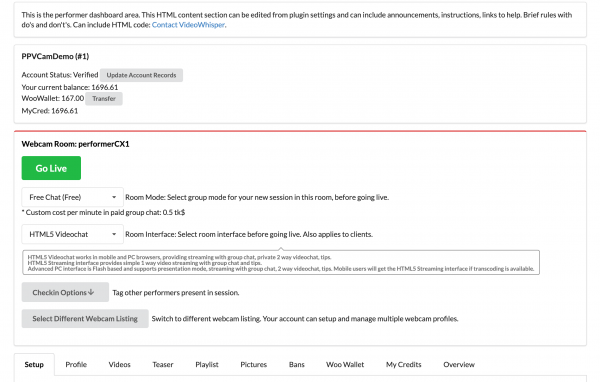 Special User Modes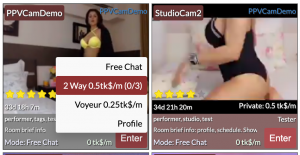 These are selected by user/participant when accessing and existing room. When accessing rooms from webcam listings users can select special modes, that usually involve additional fees:
 2 Way Mode: If enabled, a limited number of users can start their webcams during group chat (for easier communication with performer). Only performer can see their stream and they have to pay extra for this privilege. Publishing webcams involves extra server streaming load.
Configure 2 way slots cost per minute for users in 2 way mode as "2way" when defining group modes.
If enabled by admins, performers can define 2way slots for their room.
Voyeur Mode: If enabled, users can watch performers without participating in chat. Also their username during live session is obfuscated. Performer does not know at live name of user who is watching as voyeur, but voyeur username shows in transactions section, after session. Great for clients that want to participate in public sessions but don't want to interact.
Admins can configure cost per minute for users watching as voyeur. Voyeur modes can also be enabled for private shows (so performers pay to see performer private show).
Random Videochat with Next Button
A random client-performer matchmaking system, similar to roulette themed videochat sites, is available in PaidVideochat solution to quickly move between performer rooms.


Random Viedeochat is available with a Next button in HTML5 Videochat App interface.
Enables clients to quickly move to a different performer room (without leaving chat interface).
Next room is selected from rooms recently active online, by picking a room user did not enter or entered longest time ago (for rotation).
The Next button can be used to navigate to available free or paid rooms depending on settings. Will not navigate to rooms where performer is in private show. Visitors always get free rooms (because they don't have a balance for paid shows).
When users enter paid rooms, welcome message will contain details including group cost per minute and grace time. Also a special room icon showing paid mode.
When going to a paid room (if enabled from settings), user is not charged right away as there is a grace time (configurable). If moving to next room or closing chat before grace time ends, no charge occurs. Also paid room welcome message has a special icon showing payment.
Backend settings include selecting next room only from free/paid or online rooms. Clients can try their luck with this random matchmaking roulette feature to quickly browse different performers, without leaving the chat.
Presentation Mode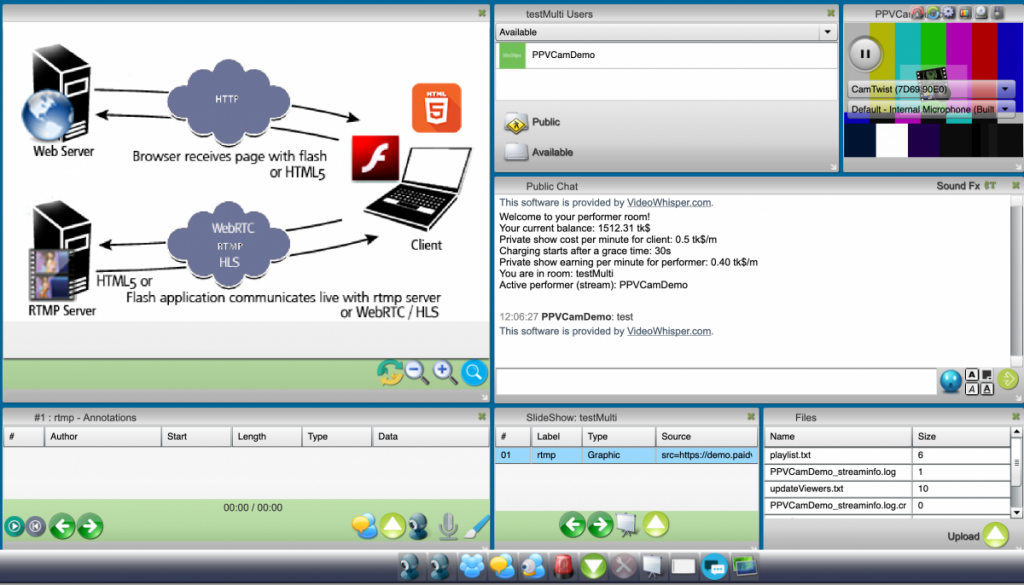 Advanced application can be used in presentation mode (a special application mode).
Can be enabled by administrator globally depending on site theme (for collaboration, e-learning, presentation projects) or by each performer for own rooms, if feature is allowed by admins.
This involves a presentation screen and multiple new features like file sharing, slideshows, annotations, recording, whiteboard.
Performer can select what to show on presentation screen (own or other participant camera, slides with annotations).
Can also open additional video panels to show own or other cameras in addition to presentation screen.
Presentation mode can be used for e-learning classes, consultation, seminars, collaboration sessions, presentations.
Presentation mode is only available for advanced application (Flash plugin based for PC browsers).
Interfaces, Mobile Support
Due to mobile browser limitations, solution implements special interfaces for mobile users in addition to legacy Flash application.
Solution supports 3 types of interfaces that can be selected by performer when starting a session (as enabled/configured by admin):
HTML5 Videochat App – 1 way group streaming, 2 way private show requests, tips, random videochat next button, WebRTC streaming
Advanced – (legacy PC Flash) 1/2 way group streaming, 2 way private show requests, tips, presentation/consultation mode, RTMP streaming
HTML5 Live Streaming – 1 way group streaming, tips, WebRTC & HLS/MPEG streaming (transcoded broadcasts from Flash/RTMP)


HTML5 Videochat App is built to provide advanced interactions.
1 way group streaming (
2 way videochat
Live Wallet Balance Display
Tips with multiple customizable options, gift images
WebRTC relayed streaming (reliable and scalable to many clients from streaming server, independent of broadcaster upload connection)* Public lobby with performer video 1 way and group text chat
Group / private  paid videochat
Random Videochat with Next button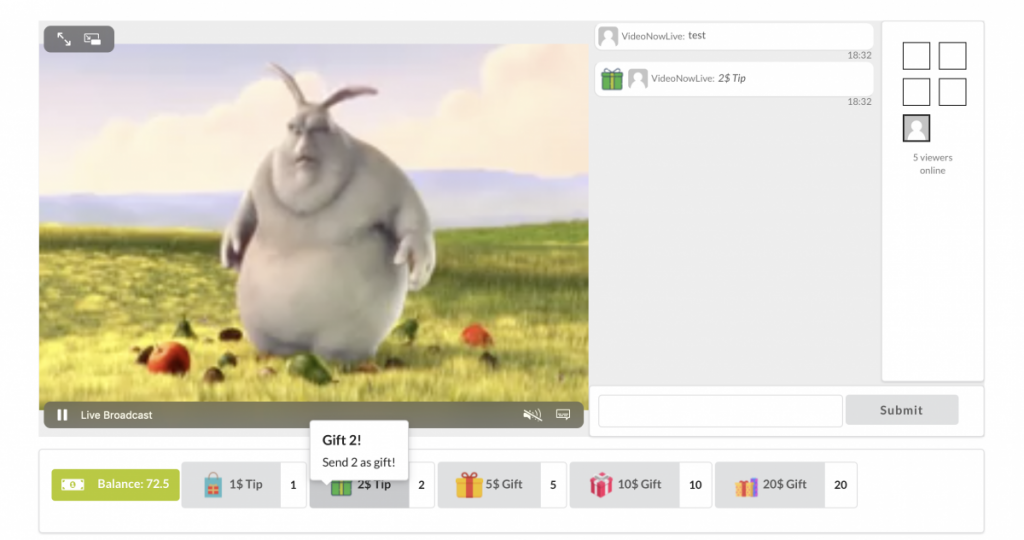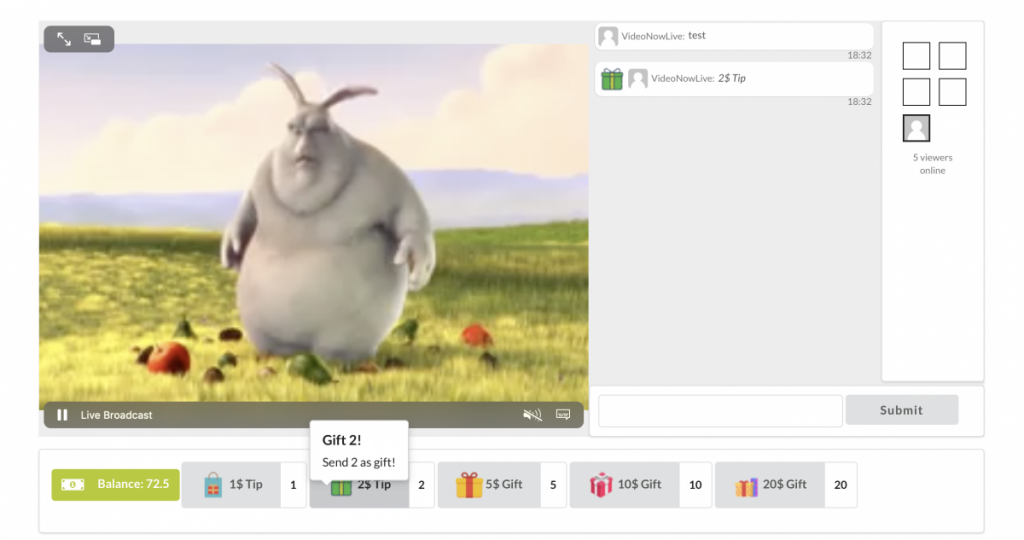 HTML5 Live Streaming interface is mainly for transcodes broadcasts done from legacy Flash interface or other RTMP sources. Streams from advanced interface mode are available for mobile users: HTML5 stream of performer webcam is delivered as HLS / DASH after transcoding.
HTML5 interface can also be started by performer, using WebRTC to broadcast/playback. HTML5 Live Streaming solution does not support interactions like requesting private pay per minute show.
HTML chat is available for devices that support inline streaming (some will show video stream in full screen so no other elements like chat are available in mobile browser).
Paid group chat is supported with the html chat but HTML5 Videochat App is recommended for better reliability and features.
For advanced functionality including broadcasting mobile camera and live reliable secure interactions, custom mobile apps can also be developed.
Also see: