Each заказ (license and/or hosting) includes one бесплатная установка, if compatible hosting is available (as provided with the turnkey packages).
So if you ordered, просто submit a ticket to contact technical support for installation assistance. If already installed and need an extra installation, additional paid installations can be упорядоченный.
Установка means our staff will install WP, плагины, configure streaming, add menus and pages to be able to access features as in our demos, test to make sure it works and send you links to: access main sections, configure settings specific to your business (логотип, Биллинг) and review suggestions to improve setup / customize further.
Note on требования: These high end features have specific hosting требования (for the live video streaming & interaction part not available with regular web hosting). We highly recommend using our turnkey plans for a fast, affordable, reliable and hassle free setup.
Дополнительно, HTML5 Видеочат in HTML5 WebRTC technology implemented in latest versions involves more specific requirements: Потоковая передача ретрансляции WebRTC HTML5 для обеспечения надежности и масштабируемости, SSL и конкретная конфигурация на конкретном потоковом сервере, управление сеансами для управления потоками и взаимодействиями между потоковой передачей и веб-сервером, ffmpeg with involved html5 & webrtc video codecs on web host.
Контакт VideoWhisper staff if you require assistance. Include WordPress admin details if you already have WP installed.
Sections on this page: Install WordPress, Install Plugin, Configure Plugin, Предлагаемые плагины, Configure Email, Configure Pay Per View, Setup Membership, Настроить.
First step to using a web host is pointing your domain from registrar (where you registered it) to the name servers specified in hosting info: propagation of new DNS settings usually takes few hours. When domain points to correct web host, installation can be started:
Я. WordPress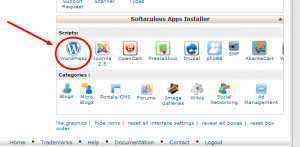 This solution is based on WordPress framework. Почему WordPress? Над 1/3 Топ 10k сайты онлайн использовать WordPress, a platform that stood the test of time, was improved and fine tuned in years. Building on a reliable tested platform and its mature coding standards provides reliability, security, производительность.
WordPress should be installed and running first. On VideoWhisper recommended turnkey hosting, WP installs automatically from CPanel Softaculous (VideoWhisper staff can also install WP for you on these plans).
On 3rd party hosting, our staff can install WP manually for an installation fee.
Path: WordPress should be installed on root of domain/subdomain, not in a folder like WP.
HTTPS: Некоторые браузеры, такие как Chrome, требуют HTTPS для публикации веб-камеры: URL-адрес WordPress должен быть настроен с HTTPS, если поддерживается хостом. Планы VideoWhisper включают SSL-сертификат и автоматическую настройку HTTPS (становится доступным вскоре после указания домена веб-хостингу).
Второй.
Install PPV Live Webcams Plugin
Перед установкой, Убедитесь, что ваша среда размещения соответствует всем требованиям требования.
Предупреждение: Standard web hosting servers and plans don't include the required specific live streaming server capabilities, лицензирование серверного программного обеспечения, tools and configurations or administrators experienced with such features.
We don't recommend using a provider that does not have experience with these streaming solutions as that often leads to long setup hassle and unreliable service.
В большинстве сценариев лучшим вариантом для быстрой надежной настройки по лучшей цене является перемещение веб-сайта или указать поддомен на наш полностью совместимый готовые планы управляемого потокового хостинга .
Advanced features like listing/importing archives, scheduling playlists require both web and rtmp on same server and specific rtmp side content path configuration.
HTML5 WebRTC, для перекодирования и доставки ЗОЖ требуется Wowza SE, streaming session control and FFMPEG with specific codecs on web host.
Broadcasting from Chrome requires HTTPS and a SSL certificate also needs to be configured on streaming server for HTML5 HLS, WebRTC.
Все необходимые функции хостинга, потоковые услуги, конфигурации «под ключ», Серверное лицензирование и видеоинструменты доступны вместе с готовые планы хостинга (Веб + потокового).
Install Plugin
If you're not hosting streaming with VideoWhisper go to

Настройка приложения RTMP для получения сведений об установке.

If you host with VideoWhisper

,

hosting details contain ready to use RTMP address

(

es

),

depending on

hosting type

. WebRTC, HLS, MPEG-DASH и другие функции должны быть настроены в соответствии с документацией Wowza SE на серверах 3-й стороны.

The basic WebRTC samples that come with Wowza SE can be used to test own Wowza SE setup

.

Search for the PPV Live Webcams

(

in exampled by keyword

"VideoWhisper")

and install it directly from WordPress admin area

(рекомендуемые).


OR




download latest

Плагин Wordpress zip-версия и скопируйте файлы из zip-файла, включая структуру папок, в папку плагинов WordPress:

you should obtain wp-content/plugins/ppv-live-webcams/ppv-live-webcams.php

.


After upload installation

,

upgrade to latest version from WP repository

(

usually more recent that snapshot available for download

).
СМ.
Configure Plugins from WordPress Backend
This turnkey site solution involves multiple plugins for various complex features.
From Live Webcams

>

Settings in WP backend

,

configure live streaming server settings

(

it's compulsory for application to work

).


For VideoWhisper hosting all streaming settings can be quickly imported from

Import

tab

,

as provided in hosting info

.

Setup Pages from tab with same name

. От внешнего вида >

Menus enable the VideoWhisper menu or add feature pages

(Веб-камеры, Исполнитель Dashboard,

Client dashboard

)

pages to main site menu

.
Из настроек >

Permalinks enable a SEO friendly structure

(от. Название поста)
Из настроек >

General enable Membership

:

Anyone can register

.

Plugin will create and show roles on the default registration page

(

usually accessible at /wp-login.php

?

action=register

).

You may need to add registration link to a menu

,

page or a widget if not accessible to your users

.

Edit Categories from Webcams

> Категории.

Webcams use global site content categories

.
Установите,

enable and configure a billing plugin

,

setup PPV

(

described in a special section below

).
Установите,

enable and configure plugins for performers to upload videos and pictures to their profiles

: Видео доля VOD и Фотогалерея.
Также

Rate Star Reviews

to enable content/room ratings

.
Установите и включите Микроплатежей – Платное членство плагин.

Setup pages from its settings to enable My Wallet page for easily managing tokens

.


Users can buy content or membership using same token system used for tips and pay per minute as this plugin also manages specific feature pages

: Содержимого, Мои активы, Мой контент, Членство.

After testing main features

: Настроить

visual identity

,

setup Privacy Policy

/

Terms of Use and other pages required for your project

.
Troubleshooting: You can resent main plugin settings from Reset tab in backend. Plugin also shows default settings for key customisations, if you need to restore specific defaults.
Рекомендуемые плагины
Turnkey Features Plugins
ВуКоммерц :

ecommerce

Платформа
БаддиПресс :

community

(

member profiles

,

activity streams

,

user groups

,

messaging

)

Sensei LMS

:

learning

management system

bbPress

:

clean discussion

forums
TroubleShoot Plugins
Suggestion: install only plugins that are really necessary for project because adding many results in higher setup complexity (hassle with conflicting settings or hooks) and high resource usage per request (lower user capacity and speed for website). Often when adding plugins, less is more.
Plugins should be activated and configured, one by one.
– If site gets broken by a plugin you add, you can remove last added plugin by ftp from /public_html/wp-content/plugins or contact technical support.
Plugins should be updated often to latest versions. Using older versions is high risk due to public exploits or bugs from older versions.
TroubleShoot Emails

:

Users don't see registration emails

As WordPress registration emails are very common, many email providers will move these emails in Spam folders or even reject emails that don't meet some checks.
Setup real email account that passes SPF

&

DKIM checks

(

setup from CPanel

).

Use a

SMTP plugin for WordPress

to send all site emails trough that account

.

Also add an

automated user email verification plugin

(

as suggested

)

that changes WP emails from default common templates when requesting verification by email

.

Do some tests yourself on popular email sites and mark the emails as

Not Spam

if showing in Spam folders

.

This can unblock future emails on that service

,

after users marked it as safe

.

Theory

:

For big email providers

,

new email senders start with low reputation and positive feedback increases it

.

Advise users to check spam folders after registration and mark emails as Not Spam

.

Depending on provider

,

automated emails like for registrations can go to spam

.

Before production test registering on few major providers like gmail

,

yahoo

,

hotmail

.

If you can't find the emails

,

test mailing by sending directly from

CPanel webmail

and troubleshoot with

CPanel Email Deliverability

инструмент.

Try using an external mailing account

/

service by configuring that in SMTP settings

.

Certain mail servers just reject most emails from hosting provider networks and require specific email providers from a different network or service for best deliverability

.

Web Hosting Email Limitation

:

Web hosting plans have email rate limitations to protect servers and network from being blacklisted as mass spammers

.

Getting blacklisted affects all clients on a shared server or different servers if a class of network IPs got blacklisted and results in emails not being delivered for long time

.
–

If you need to do email campaigns and send thousands of emails per day

,

use a specialized mass emailing service

.


Trying to send directly from website will result in rate being reached

,

full queue for days and regular site emails for registration being delayed or not being sent

.
В примере,

if there's a

30

emails per hour limit for an entry plan

,

when limit is reached additional emails are delayed for next hour

.

If there's already a big queue of unsent emails

,

registration emails can get sent days later or never

.


When sending newsletters or mass emails your domain

,

dedicated site IP

,

server hostname can get blacklisted due to regulation compliance details or users reporting it as spam

(

sometimes incorrectly

).

So it should be handled by an external professional service specialized in sending mass emails or newsletter

.
–

If hosting plan is underpowered

(i.e. Более 30

registration/confirmation or other automated emails per hour for an entry plan

)

account should be upgraded to a higher plan

.

Higher plans have higher mailing allocation

.
TroubleShoot Interface

:

Blocked tabs in dashboard

Interface uses Semantic UI which requires jQuery. Your theme or plugins may disable jQuery, load older versions or generate errors that break JS features.
Try using latest jQuery version with a plugin like jQuery Updater or similar.
Some themes implement smooth scrolling or similar scripts that may cause conflicts, block scrolling or hide interface content. Try disabling such features. To check if theme is the cause, try temporary switching to a different theme (one of the default WP themes).
TroubleShoot App Loading

:

HTML5 Videochat does not show

Sometimes app JS is prevented from loading by web hosting (.htaccess or server security rules).
Try renaming .htaccess and saving permalinks to generate a new one. If that doesn't work try temporary disabling firewall or other rules that may block access to urls and configuring it if causing the issue.
IV. Pay Per View (PPV): Платить за минуту (PPM) Установки
First install

myCRED и/или

TeraWallet for WooCommerce

WordPress plugin

.

These wallet plugins require configuration as described in section below

.

Select Active Wallet to use with solution from Live Webcams

> Настройки >

Billing Wallet

.

If activating both wallets

,

also configure Multi Wallet settings

:

Show will display balances for available wallets

,

Manual will allow transferring to active wallet

,

Auto will automatically transfer all to active wallet

.

From Live Webcams

> Настройки > Платить за минуту

tab setup

:

client cost per minute

льготный период

ratio earned by performer

minimum balance to request show

,

continue show

optionally

,

performer cost per minute for other type of service scenarios

From

Group Chat Modes

tab configure cost per minute for paid group chat modes and special user modes like Voyeur

, 2 Способ.

Client sessions in paid/free can be reviewed in Live Webcams

>

Session Logs

.

From

Советы

tab configure tip options

,

earning ration

,

cooldown

.

From

Cam Listings

tab configure currency/credit labels

.
Wallet Configuration
MyCred Wallet Configuration
WooCommerce Wallet Configuration
Install and activate WooCommerce

,

required for Woo Wallet plugin

.

Configure WooCommerce payment gateways from WooCommerce

> Настройки,

Payments tab

.

Activate WooWallet plugin

.

Configure WooWallet

>

Settings and enable payment gateways you want to use

.

Setup a page for users to buy credits with shortcode

[

woo-wallet

].

My Wallet section is also available in WooCommerce My Account page

(/

my-account

)

if you add that to your site menus

.

WooWallet supports multiple

бесплатные и премиальные платежные расширения:

PayPal (Стандарт, Контроль)
Полоса (КУБОВЫЙ, Эппл Пэй, Гугл Платите, СЕПА, Банкконтакт, Софорт, Жиропай, ЭПС, идеальный, Пржелевы24, Алипай, Мультибанко)
Площадь (CC США, Канада, Австралия, Япония и Великобритания)
Амазонка Платите
payfast
Венмо
эВэй (СГ, МОЙ,

HK

, АУ, Новая Зеландия)
Кларна (сейчас, позже, ломтик)
Authorize.Net
СагеПай (ВЕЛИКОБРИТАНИЯ)
УорлдПай
2 Контроль
… и многое другое
V.
Membership Access Setup

(Необязательный)

Solution allows restricting features by customizable role names. Any membership plugin can be used to setup paid roles. These can be configured in solution for accessing specific features or functionality for performers, клиенты.
To setup paid membership

,

first install a membership plugin to manage paid member roles

.
–

With the

Микроплатежей – Платное членство, Содержимого, Загрузки плагин,

users can buy membership using same token system used for tips/gifts and pay per minute

(

MyCred and/or WooWallet

+ ВуКоммерц).

Site visitors first register as free users

,

buy tokens and use micropayments to upgrade their membership

.


This plugin also allows setting up paid access to content for a flat fee

(

access price

),

using either MyCred Sell Content addon or WooCommerce

.

For WooCommerce

,

this plugin creates a product that needs to be purchased for user to access that specific content

(номер,

page

, Поместить, скачать, видео).
– Для прямой покупки членства (где посетители регистрируются, заплатив,

without using a free user role

), Членство в WooCommerce & Подписки (премиум плагины) позволяет настраивать платные платные роли членства:

From plugin Settings configure roles and features to match new paid member roles

.
-

Client tab

:

configure client role to match and access to public video chat

,

if paid members are clients

.
-

Performer tab

:

configure performer role name to match

,

if paid member is performer

.
-

Integration tab

:

disable Registration Form Roles

,

if certain roles are obtained by payment

.