Rozwiązanie witryny PaidVideochat pod klucz implements advanced PPM video calls with Videochat HTML5.
Pokazy na żywo:
Test VideoCall App
Edycja witryny "pod klucz" obejmuje role rejestracji. Aplikacje są również dostępne w niektórych uproszczonych konfiguracjach demonstracyjnych, do szybkich testów bez rejestracji:
Pokaz połączeń wideo * – Dostęp do pokoju jako rozmówca i udostępnianie łącza klientowi 2 sposób połączenia wideo.

PaidVideochat Demo

–

Register as performer to setup video call rooms or client to request instant private calls

.
* Są to zwykłe dema php, przy użyciu tej samej aplikacji, ale bez zaawansowanej implementacji funkcji "pod klucz". Ograniczone funkcje są implementowane / aktywne w tych pokazach.
PaidVideochat Video Calls
Istnieją 2 ways of initiating private video calls:
Instant

videocalls can be requested when performer is live in videochat

:
–

live from webcam listings


–

during group chat




User needs a wallet with tokens to request and participate in

opłata za minutę rozmowy wideo.

All instant calls are pay per minute unless cost per minute is configured to

0

from solution backend

.

Locked

videocall links can be setup by performer from dashboard for specific users by username or email

.

Each call is restricted to a client and can be accessed by link only by that logged in client

.

Client can access a list of all available calls from Client Dashboard

.

Performer can start or live switch room to Calls Only mode

:

only users with a call link can access

.

Performer can setup locked call as

Wypłacane (opłata za minutę) lub Darmowe.
Performer Call Chat Modes
In addition to group chat modes, performer can Go Live in Calls lub Locked Calls tryb, disabling group chat.
Performers can use call only modes to take calls, without starting group / presale chat.
These modes are predefined in latest defaults.
In Locked Calls mode, room is only available for predefined call links, hiding from room list.
Private Chat

/

Call Modes

Private chat is available in 3 modes:
– video call (kamera internetowa, Mikrofon, rozmów tekstowych)
– audio call (Mikrofon, rozmów tekstowych)
– private text chat (only text chat)
Call mode can be selected by client when requesting from listings menu (błyskawicznej) or when setup by provider (Zablokowany).
Provider can setup both paid and free calls. Different paid call types can have different cost per minute (in tokens/credits using micropayments).
When requested inside group live chat, call inherits group chat mode (video or audio/text only).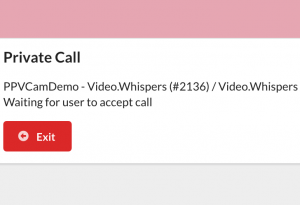 Video Call Features
100% tkanina oparty, 2 Sposób, HTML5

live video streaming and chat

Wybierz Aparat, Mikrofon, Rozdzielczość

with adaptive

bitrate

quality options

Wait lobby

showing live status until other user is online

,

available and accepts

Audio Only mode

:

website or user

(

if options are enabled

)

can be configured in Audio Only mode

,

meaning only microphone will be available for audio

+

text calls

.

Can be used for bandwidth restricted projects or professionals

/

advisors that don't want to share webcam

.

Text Only mode

:

enables using only text chat

,

without webcam on microphone

.
Zapłać za minutę (PPM): Fakultatywnie, Koszt za minutę (CPM)

can be defined by admin or performer if allowed

,

for each webcam room

.


A grace time can be configured

,

in example free 30s for setup and warmup until paid session

.

Cost is displayed in webcam listings and room chat

.


CPM can be configured to

0

to disable pay per minute

.

Tips/Gifts

:

Participant can send tips/gifts to room owner

/ wykonawca.


Predefine list of tip amounts with icons is configurable from settings

.

Each user can configure

Tryb ciemny /

Light Mode preference for own interface

.


Preference is preserved

,

unless reset option is enabled from backend settings

.
Reveal

/

Uncover Mode

Call can be started with microphone only (czat + audio) and a Reveal button activates after some warmup time.
User can reveal own webcam by choice after warmup time. There's a timer showing time left until webcam can be uncovered.
Warmup time can be configured from settings or by user if options are enabled in chat interface.
Tylko dźwięk
HTML5 Videochat supports audio only mode where users can only broadcast microphone without camera video.
Audio only is effective for users with low internet connections.
When using simple interface (Emisji, Playback, 2 Sposób) a special interface focused on chat shows for audio only.