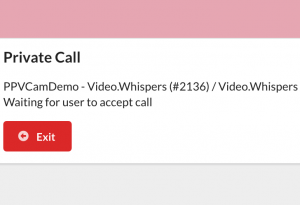 PaidVideochat turnkey site solution implements advanced PPM video calls with HTML5 Videochat.
There are 2 types of private video calls:
Instant

videocalls can be requested live from webcam listings and during group chat

.

Locked

videocall links can be setup by performer from dashboard for specific users by username or email

.

Each call is restricted to a client and can be accessed by link only by that logged in client

.

Client can access a list of all available calls from Client Dashboard

.

Performer can start or live switch room to Calls Only mode

:

only users with a call link can access

.
Video Call Features
100%

web based

, 2 Manier, HTML5

live video streaming and chat

Selecteer Camera,

microphone

,

resolution

with adaptive

bitrate

quality options

Wait lobby

showing live status until other user is online

,

available and accepts

Reveal mode

:

call can be started with microphone only and a Reveal button activates after some warmup time

.


User can reveal own webcam by choice after warmup time

.


Warmup time can be configured from settings or by user if options are enabled in chat interface

.

Audio mode

:

website or user

(

if options are enabled

)

can be configured in Audio Only mode

,

meaning only microphone will be available for audio

+

text calls

.

Can be used for bandwidth restricted projects or professionals

/

advisors that don't want to share webcam

.
Pay Per Minute (PPM): Kosten Per minuut (CPM)

can be defined by admin or performer if allowed

,

for each webcam room

.


A grace time can be configured

,

in example free 30s for setup and warmup until paid session

.

Cost is displayed in webcam listings and room chat

.

Tips/Gifts

:

Participant can send tips/gifts to room owner

/ performer.


Predefine list of tip amounts with icons is configurable from settings

.

Each user can configure

Donkere modus /

Light Mode preference for own interface

.


Preference is preserved

,

unless reset option is enabled from backend settings

.

Call chat modes

:

Performer can Go Live in Calls or Locked Calls mode

,

disabling group chat

.

These modes are predefined in latest defaults

.


In Locked Calls mode

,

room is only available for predefined call links

,

hiding from room list

.