Solution can be used in multiple chat modes for referring to interactions
, 기능,
interface
.
이 페이지에서 자세히 보기: custom room modes, special user modes, 랜덤 화상 채팅, presentation mode, interfaces.
Custom Room Modes

:

Group Videochat Modes

Performer selects room mode when going live.
Administrators can define custom group modes (unlimited number) with different settings from backend, depending on site theme.
Sample group modes : Free/Paid/Platinum, Evaluation/Consultation 또는 Free/Topless/Nude on adult related sites.
For each mode can configure various settings like cost per minute (0 for free modes), special modes, automated periodic webcam snapshots, archiving webcam stream and automated publishing of archived streams as videos.
Group mode is selected by performer. Performer selects mode when going live (before starting session).
Group PPV: Performer can also start room in paid group mode. All users that enter get charged per minute after a grace time. Group cost per minute can be seen in listings and in room when accessing. Admins can define multiple custom group modes (부터: 무료, 지급, 특별 한) with different cost per minute and special user modes.
If enabled by admins, performers can define their own custom group pay per minute rate.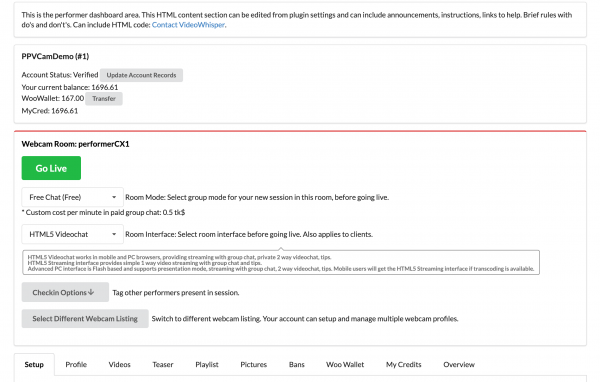 Special User Modes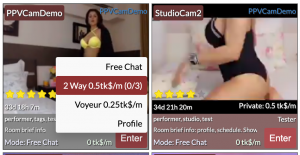 These are selected by user/participant when accessing and existing room. When accessing rooms from webcam listings users can select special modes, that usually involve additional fees:
2 Way Mode: If enabled, a limited number of users can start their webcams during group chat (for easier communication with performer). Only performer can see their stream and they have to pay extra for this privilege. Publishing webcams involves extra server streaming load.
구성 2 way slots cost per minute for users in 2 way mode as "2방법" when defining group modes.
If enabled by admins, performers can define 2way slots for their room.
Voyeur Mode: If enabled, users can watch performers without participating in chat. Also their username during live session is obfuscated. Performer does not know at live name of user who is watching as voyeur, but voyeur username shows in transactions section, after session. Great for clients that want to participate in public sessions but don't want to interact.
Admins can configure cost per minute for users watching as voyeur. Voyeur modes can also be enabled for private shows (so performers pay to see performer private show).
다음 버튼이 있는 랜덤 화상 채팅
랜덤 클라이언트 수행자 매치메이킹 시스템, 룰렛 테마 화상 채팅 사이트와 유사, 유료 비디오 챗 솔루션에서 사용할 수 있습니다 신속하게 공연자 객실 사이를 이동.


Random Viedeochat is available with a 다음 단추 HTML5 Videochat 응용 프로그램 인터페이스.
클라이언트가 다른 공연실로 빠르게 이동할 수 있도록 합니다. (채팅 인터페이스를 떠나지 않고).
다음 객실 온라인에서 최근에 활성화 선택, 객실을 선택 하 여 사용자 입력 하지 않았거나 입력 한 긴 시간 전 (회전에 대 한).
다음 버튼은 설정에 따라 사용 가능한 무료 또는 유료 객실로 이동하는 데 사용할 수 있습니다.. 객실 개인 쇼에 수행자가 이동 하지 것입니다.. 방문자는 항상 무료 객실을 얻을 (그들은 유료 쇼에 대 한 균형 없기 때문에).
사용자가 유료 객실을 입력 하는 때, 환영 메시지 그룹 분 및 총 시간 당 비용을 포함 한 정보를 포함 합니다.. 또한 특별 한 룸 아이콘 표시 모드 지불.
유료 룸에 갈 때 (설정에서 사용 하는 경우), 총 시간으로 사용자는 바로 충전 하지 (구성 가능). 옆 방 또는 닫는 채팅 총 시간 종료 되기 전에 이동 하는 경우, 발생 하는 요금. 또한 유료 룸 환영 메시지는 결제를 보여주는 특별 한 아이콘.
백엔드 설정 포함 무료/유료 또는 온라인 에서만 옆 방 선택. 클라이언트를 신속 하 게 다른 연예인이 무작위 중 매 룰렛 기능 그들의 행운을 시도할 수 있습니다., 채팅을 떠나지 않고.
Presentation

/

Collaboration Mode

Some projects (tutoring, e-학습, 상담) may require presentation or collaboration features, like exchanging files.

Site can be configured globally to start rooms in presentation/collaboration mode and performers can be allowed to set their room in regular or presentation mode. Presentation mode is available for Advanced PC interface (Flash plugin based for PC browsers) and also enables collaboration mode in HTML5 Videochat interface.
HTML5 비디오 채팅: 합작
HTML5 비디오 채팅 application enables a Files tab for users to upload and open file.
Registered users can upload, performer can also delete files.
Multiple files can be uploaded at same time with HTML5 drag and drop or selection.
A Tabs section enables multiple tabs like Chat, Camera, 사용자, 파일, Presentation, 옵션 to use same space. Also performer can see live stream from server, as rest of users for exact performance and quality preview.
Options enable performer to configure split view live (즉,. 2, 4, 6 slots) where to show users (for video conferencing) or media content (이미지, 동영상) for presentation.
Flash Video Chat Messenger

:

Presentation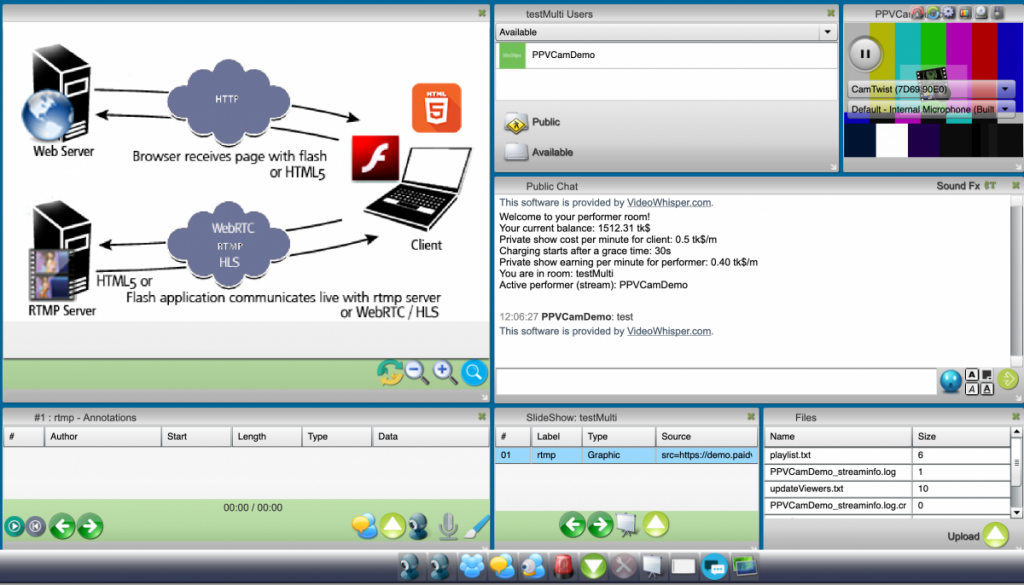 Advanced PC 응용 프로그램 (비디오 메신저) can be used in presentation mode (a special application mode).
Can be enabled by administrator globally depending on site theme (for collaboration, e-학습, presentation projects) or by each performer for own rooms, if feature is allowed by admins.
This involves a presentation screen and multiple new features like file sharing, slideshows, annotations, 기록, whiteboard.
Performer can select what to show on presentation screen (own or other participant camera, slides with annotations).
Can also open additional video panels to show own or other cameras in addition to presentation screen.
Presentation mode can be used for e-learning classes, 상담, seminars, collaboration sessions, 프리젠 테이션.
Interfaces

, 모바일 지원

Solution supports 3 types of interfaces (web streaming applications) that can be selected by performer when starting a session (as enabled/configured by admin):
HTML5 비디오 채팅: 1

way group streaming

, 2

way private show requests

, 팁,

random videochat next button

,

WebRTC streaming

(

default interface

)
비디오 메신저 –

Advanced PC interface

(

Flash app

): 1/2

way group streaming

, 2

way private show requests

, 팁,

presentation/consultation mode

, RTMP 스트리밍
HTML5 스트리밍 라이브: 1

way group streaming

, 팁, WebRTC가 &

HLS/MPEG streaming

(

transcoded broadcasts from Flash/RTMP

)
These interfaces have different design, capabilities and implement main features with some differences. Turnkey combos on order page include full mode for all interfaces (full mode licensing for all applications).
HTML5 비디오 채팅


HTML5 Videochat app is most recent interface, built to provide advanced interactions using HTML5, without Flash plugin, which makes it compatible with most browsers including iOS Safari, 안드로이드 크롬.
1

way group streaming

, 공공 로비에서
2 방법 화상 채팅,

in private shows

라이브 지갑 밸런스 디스플레이
여러 사용자 정의 옵션이 있는 팁, 선물 이미지
WebRTC 릴레이 스트리밍 (스트리밍 서버에서 많은 클라이언트에 안정적이고 확장 가능, 브로드캐스터 업로드 연결과 무관)
그룹 / 개인 유료 화상 채팅
다른 공연실로 이동하는 다음 버튼과 임의의 화상 채팅

fullscreen interface or video only

collaboration mode

적응형 타겟 비디오 비트레이트 (캠 해상도에 따라 다름)

and broadcasting stats

다크 모드 /

lights on each user can toggle live at runtime

HTML5 화상 채팅 인터페이스를 사용 하 여 주요 브라우저에서 플래시 지원을 중단 하는 계획으로 매우 권장 됩니다. 2020.
HTML5 화상 채팅 인터페이스는 수준 4 VideoWhisper 웹 앱 라이센스, 광고 및 제한 없이 전체 모드를 활성화하려면, 상업적 용도로. 가격 차이에 대해 낮은 라이선스를 업그레이드할 수 있습니다.. 레벨 4 라이센스는 모든 낮은 수준의 응용 프로그램 인터페이스에 대한 전체 모드를 포함.
Video Chat Messenger

–

Advanced PC

(

Flash

)

Video Messenger is the VideoWhisper web app thats most advanced interface using Flash plugin (on PC).
For a long time Flash was the only reliable way to implement certain features reliably like low latency webcam broadcast and interactions. Browser developers wanted to remove reliance on such external plugins since 2010 but technologies that could reliably implement these features took a very long time to get implemented. As alternative HTML5 technology becomes better, there are plans to discontinue Flash support in 2020. VideoWhisper solutions are incorporating both new technologies like HTML5, WebRTC가, HLS, WebSockets and provide support and bridges to reliable legacy Flash features, while supported by major browsers.
공개 (

lobby

)

group chat with performer live video

개인 2 방법 화상 채팅
개인 쇼 요청, 동시에 여러 개인 채팅
당신은 미리보기를 입력 할 때

user thumbnail

,

status in list

,

kick/ban

tips with sound notification and message

sound notifications on entry and private request

multiple cameras

(

angles

)

from performer

advanced presentation mode with file sharing

,

multiple cameras

(

from different users

)

as assigned by moderator
Video Messenger interface requires a 수준 3 VideoWhisper 웹 앱 라이센스, 광고 및 제한 없이 전체 모드를 활성화하려면, 상업적 용도로. Purchased license can be upgraded for price difference.
HTML5 스트리밍 라이브

HTML5 Live Streaming interface is mainly for transcodedesd broadcasts done from legacy Flash interface or other RTMP sources. Streams from advanced interface mode are available for mobile users: HTML5 stream of performer webcam is delivered as HLS / DASH after transcoding.
HTML5 Live Streaming interface can also be started by performer, using WebRTC to broadcast/playback. HTML5 Live Streaming solution does not support interactions like requesting private pay per minute show.
HTML5 chat is available for devices that support inline streaming (some will show video stream in full screen so no other elements like chat are available in mobile browser).
Paid group chat is supported with the html chat but HTML5 Videochat App is recommended for better reliability and features.
1

way group live streaming and chat

live wallet balance

custom tips
HTML5 Live Streaming interface requires a 수준 1 VideoWhisper 웹 앱 라이센스, 광고 및 제한 없이 전체 모드를 활성화하려면, 상업적 용도로. Purchased license can be upgraded for price difference.
For advanced functionality including broadcasting mobile camera and live reliable secure interactions, custom mobile apps can also be developed.
All Features
라이브 데모
시작