Solution can be used in multiple chat modes for referring to interactions
, Fitur,
interface
.
Membaca halaman ini tentang: custom room modes, special user modes, videochat acak, mode presentasi, antarmuka.
Mode kustom kamar: Kelompok Videochat mode

Pemain memilih kamar modus ketika akan hidup.
Administrator dapat mendefinisikan custom mode kelompok (jumlah yang tidak terbatas) dengan pengaturan yang berbeda dari backend, tergantung pada tema situs.
Mode kelompok sampel : Gratis/dibayar/Platinum, Evaluasi/konsultasi atau Gratis/Topless/telanjang pada orang dewasa situs terkait.
Untuk setiap mode dapat mengkonfigurasi berbagai pengaturan seperti biaya per menit (0 untuk mode gratis), mode khusus, otomatis foto webcam periodik, pengarsipan webcam stream dan otomatis penerbitan Diarsipkan aliran sebagai video.
Modus grup yang dipilih oleh pemain. Pemain memilih modus ketika akan hidup (sebelum memulai sesi).
Kelompok PPV: Pemain juga dapat memulai kamar dalam modus dibayar kelompok. Semua pengguna yang masuk akan dikenakan biaya per menit setelah waktu rahmat. Kelompok biaya per menit dapat dilihat dalam daftar dan di kamar ketika mengakses. Admin dapat menetapkan beberapa grup kustom mode (ex: gratis, dibayar, Khusus) dengan biaya yang berbeda per menit dan khusus pengguna modes.
Jika diaktifkan oleh admin, pemain dapat menentukan sendiri grup kustom bayar per menit tingkat.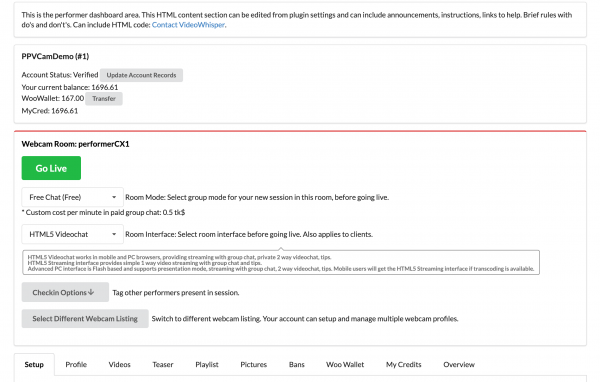 Khusus pengguna Modes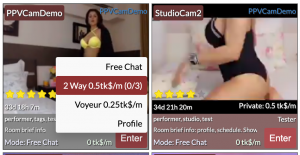 Ini dipilih oleh pengguna/peserta saat mengakses dan ruang yang ada. Ketika mengakses kamar dari webcam daftar pengguna dapat memilih mode khusus, itu biasanya melibatkan biaya tambahan:
2 Way Mode: Jika diaktifkan, sejumlah pengguna dapat mulai webcam mereka selama grup chat (untuk lebih mudah komunikasi dengan pemain). Pemain hanya dapat melihat aliran mereka dan mereka harus membayar ekstra untuk hak istimewa ini. Penerbitan webcam melibatkan tambahan server streaming beban.
Mengkonfigurasi 2 cara slot biaya per menit untuk pengguna di 2 cara modus sebagai "2cara" ketika menentukan mode kelompok.
Jika diaktifkan oleh admin, pemain dapat menentukan 2way slot untuk kamar mereka.
Voyeur Mode: Jika diaktifkan, pengguna dapat menonton pemain tanpa berpartisipasi dalam obrolan. Juga mereka pengguna selama sesi hidup baru. Pemain tidak tahu hidup nama pengguna yang menonton sebagai voyeur, Tapi voyeur username menunjukkan di bagian, setelah sesi. Besar untuk klien yang ingin berpartisipasi dalam sesi umum tetapi tidak ingin untuk berinteraksi.
Admin dapat mengkonfigurasi biaya per menit untuk pengguna menonton sebagai voyeur. Voyeur mode juga harus diaktifkan untuk acara pribadi (Jadi pemain membayar untuk melihat pemain swasta menunjukkan).
Acak Videochat dengan berikutnya tombol
Sistem penjaruman klien-pemain acak, similar to roulette themed videochat sites, is available in PaidVideochat solution to quickly move between performer rooms.


Random Viedeochat is available with a Next button in HTML5 Videochat App interface.
Enables clients to quickly move to a different performer room (without leaving chat interface).
Next room is selected from rooms recently active online, by picking a room user did not enter or entered longest time ago (for rotation).
The Next button can be used to navigate to available free or paid rooms depending on settings. Will not navigate to rooms where performer is in private show. Visitors always get free rooms (because they don't have a balance for paid shows).
When users enter paid rooms, welcome message will contain details including group cost per minute and grace time. Also a special room icon showing paid mode.
When going to a paid room (Jika diaktifkan dari pengaturan), user is not charged right away as there is a grace time (configurable). If moving to next room or closing chat before grace time ends, no charge occurs. Also paid room welcome message has a special icon showing payment.
Backend settings include selecting next room only from free/paid or online rooms. Clients can try their luck with this random matchmaking roulette feature to quickly browse different performers, without leaving the chat.
Presentasi /
Collaboration Mode
Some projects (tutoring, e-learning, consultations) may require presentation or collaboration features, like exchanging files.
Site can be configured globally to start rooms in presentation/collaboration mode and performers can be allowed to set their room in regular or presentation mode. Presentation mode is available for Advanced PC interface (Flash plugin based for PC browsers) and also enables collaboration mode in HTML5 Videochat interface.
HTML5 Videochat:
Collaboration
HTML5 Videochat application enables a Files tab for users to upload and open file.
Registered users can upload, performer can also delete files.
Multiple files can be uploaded at same time with HTML5 drag and drop or selection.
A Tabs section enables multiple tabs like Obrolan, Camera, Users, Files, Presentasi, Options to use same space. Also performer can see live stream from server, as rest of users for exact performance and quality preview.
Options enable performer to configure split view live (ie. 2, 4, 6 slots) where to show users (for video conferencing) or media content (images, video) for presentation.
Flash Video Chat Messenger

: Presentasi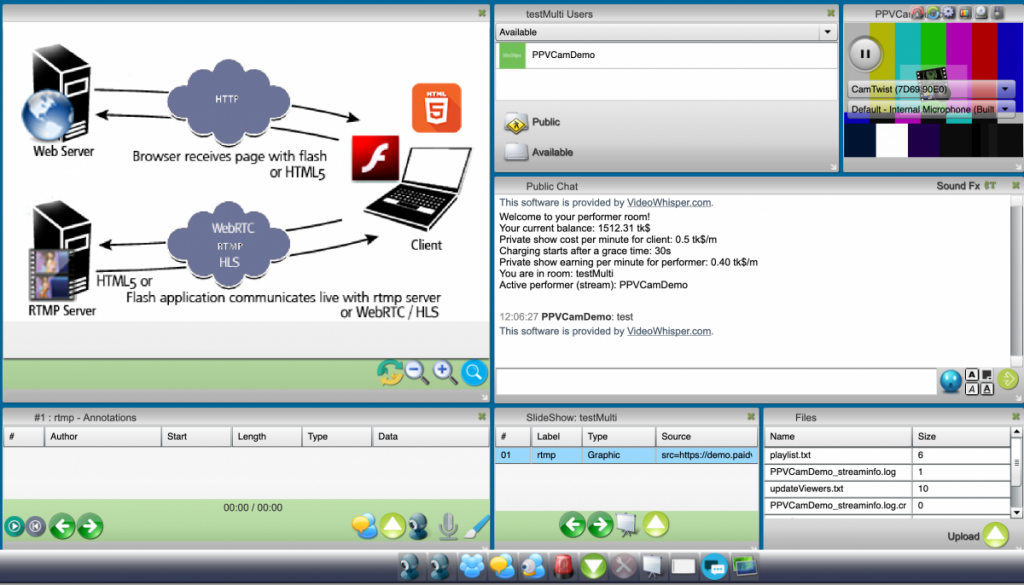 Advanced PC aplikasi (Video Messenger) can be used in presentation mode (Khusus aplikasi modus).
Can be enabled by administrator globally depending on site theme (untuk kolaborasi, e-learning, presentasi proyek) or by each performer for own rooms, if feature is allowed by admins.
Ini melibatkan layar presentasi dan beberapa fitur baru seperti berbagi file, tayangan slide, anotasi, rekaman, papan tulis.
Pemain dapat memilih apa yang harus lihat presentasi layar (sendiri atau lain peserta kamera, slide dengan penjelasan).
Juga dapat membuka tambahan panel yang video untuk menunjukkan kamera sendiri atau lainnya selain presentasi layar.
Mode presentasi dapat digunakan untuk kelas e-learning, konsultasi, Seminar, kolaborasi sesi, presentasi.
Interfaces

,

Mobile Support

Solution supports 3 types of interfaces (web streaming applications) that can be selected by performer when starting a session (as enabled/configured by admin):
HTML5 Videochat: 1 cara kelompok streaming, 2

way private show requests

, Tips,

random videochat next button

,

WebRTC streaming

(

default interface

)

Video Messenger

–

Advanced PC interface

(

Flash app

): 1/2 cara kelompok streaming, 2

way private show requests

, Tips,

presentation/consultation mode

,

RTMP streaming

HTML5 Live Streaming: 1 cara kelompok streaming, Tips, WebRTC &

HLS/MPEG streaming

(

transcoded broadcasts from Flash/RTMP

)
These interfaces have different design, capabilities and implement main features with some differences. Turnkey combos on order page include full mode for all interfaces (full mode licensing for all applications).
HTML5 Videochat


HTML5 Videochat app is most recent interface, built to provide advanced interactions using HTML5, without Flash plugin, which makes it compatible with most browsers including iOS Safari, Android Chrome.
1 cara kelompok streaming, di lobi Umum
2 cara videochat,

in private shows

Tampilan saldo dompet hidup
Tips dengan beberapa pilihan disesuaikan, hadiah gambar
Streaming WebRTC yang dipancarkan (handal dan scalable untuk banyak klien dari streaming server, independen koneksi upload penyiar)
Kelompok /

private paid videochat

Videochat acak dengan tombol Next untuk pindah ke ruang pemain yang berbeda

fullscreen interface or video only

collaboration mode

adaptif target bitrate video (tergantung pada resolusi cam)

and broadcasting stats

mode gelap /

lights on each user can toggle live at runtime

Using the HTML5 videochat interface is highly recommended as main browsers have plans to discontinue Flash support in 2020.
HTML5 Videochat interface requires a Tingkat 4 VideoWhisper web app license, to enable full mode without ads and limitations, for commercial use. A lower license can be upgraded for price difference. The level 4 license includes full mode for all lower level app interfaces.
Messenger Video Chat –
Advanced PC

(Flash)

Video Messenger is the VideoWhisper web app thats most advanced interface using Flash plugin (pada PC).
For a long time Flash was the only reliable way to implement certain features reliably like low latency webcam broadcast and interactions. Browser developers wanted to remove reliance on such external plugins since 2010 but technologies that could reliably implement these features took a very long time to get implemented. As alternative HTML5 technology becomes better, there are plans to discontinue Flash support in 2020. VideoWhisper solutions are incorporating both new technologies like HTML5, WebRTC, HLS, WebSockets and provide support and bridges to reliable legacy Flash features, while supported by major browsers.
public

(lobi)

group chat with performer live video

Pribadi 2

way video chat

private show request

,

multiple simultaneous private chats

as you type preview

user thumbnail

,

status in list

,

kick/ban

tips with sound notification and message

sound notifications on entry and private request

multiple cameras

(sudut)

from performer

advanced presentation mode with file sharing

,

multiple cameras

(

from different users

)

as assigned by moderator
Video Messenger interface requires a Tingkat 3 VideoWhisper web app license, to enable full mode without ads and limitations, for commercial use. Purchased license can be upgraded for price difference.
HTML5 Live Streaming

HTML5 Live Streaming interface is mainly for transcodedesd broadcasts done from legacy Flash interface or other RTMP sources. Streams from advanced interface mode are available for mobile users: HTML5 stream of performer webcam is delivered as HLS / DASH setelah transcoding.
HTML5 Live Streaming interface can also be started by performer, menggunakan WebRTC untuk siaran/pemutaran. Solusi HTML5 Live Streaming tidak mendukung interaksi seperti meminta pribadi bayar per menit Tampilkan.
HTML5 chatting tersedia untuk perangkat yang mendukung inline streaming (beberapa akan menunjukkan aliran video dalam layar penuh sehingga tidak ada unsur-unsur lain seperti chatting tersedia di peramban seluler).
Obrolan berkelompok yang dibayar didukung dengan html chat tapi HTML5 Videochat App dianjurkan untuk lebih baik reliabilitas dan fitur.
1 cara kelompok live streaming dan chatting
keseimbangan hidup dompet
tips kustom
Antarmuka HTML5 Live Streaming memerlukan Tingkat 1 VideoWhisper web app license, to enable full mode without ads and limitations, for commercial use. Purchased license can be upgraded for price difference.
Untuk fungsionalitas canggih termasuk kamera mobile penyiaran dan hidup interaksi aman handal, aplikasi mobile kustom juga dapat dikembangkan.
Semua fitur
Hidup demo
Memulai