Solution can be used in multiple chat modes for referring to interactions
, características, interfaz.
Lea en esta página sobre: custom room modes, special user modes, videochat aleatorio, presentation mode, interfaces.
Custom Room Modes

:

Group Videochat Modes

Performer selects room mode when going live.
Administrators can define custom group modes (unlimited number) with different settings from backend, depending on site theme.
Sample group modes : Free/Paid/Platinum, Evaluation/Consultation o Free/Topless/Nude on adult related sites.
For each mode can configure various settings like cost per minute (0 for free modes), special modes, automated periodic webcam snapshots, archiving webcam stream and automated publishing of archived streams as videos.
Group mode is selected by performer. Performer selects mode when going live (before starting session).
Group PPV: Performer can also start room in paid group mode. Todos los usuarios que ingresan reciben un cargo por minuto después de un tiempo de gracia. El costo del grupo por minuto se puede ver en los listados y en la habitación al acceder. Admins can define multiple custom group modes (desde: libre de, pagado, especial) with different cost per minute and special user modes.
If enabled by admins, performers can define their own custom group pay per minute rate.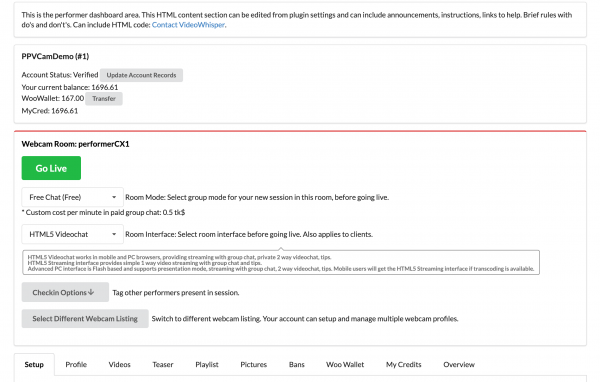 Special User Modes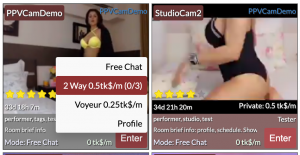 These are selected by user/participant when accessing and existing room. When accessing rooms from webcam listings users can select special modes, that usually involve additional fees:
2 Way Mode: If enabled, a limited number of users can start their webcams during group chat (for easier communication with performer). Only performer can see their stream and they have to pay extra for this privilege. Publishing webcams involves extra server streaming load.
Configure 2 way slots cost per minute for users in 2 way mode as "2forma" when defining group modes.
If enabled by admins, performers can define 2way slots for their room.
Voyeur Mode: If enabled, users can watch performers without participating in chat. Also their username during live session is obfuscated. Performer does not know at live name of user who is watching as voyeur, but voyeur username shows in transactions section, after session. Great for clients that want to participate in public sessions but don't want to interact.
Admins can configure cost per minute for users watching as voyeur. Voyeur modes can also be enabled for private shows (so performers pay to see performer private show).
Videochat aleatorio con el botón Siguiente
Un sistema aleatorio de emparejamiento cliente-ejecutante, similar a los sitios de videochat temáticos de ruleta, está disponible en la solución PaidVideochat para moverse rápidamente entre las salas de los artistas.


Random Viedeochat is available with a Botón siguiente en interfaz HTML5 Videochat App.
Permite a los clientes moverse rápidamente a una sala de intérpretes diferente (sin salir de la interfaz de chat).
Habitación de al lado se selecciona desde habitaciones recientemente activas en línea, escogiendo una habitación usuario no entró o entrado en mucho tiempo hace (para la rotación).
El botón Siguiente se puede utilizar para navegar a las habitaciones gratuitas o de pago disponibles dependiendo de la configuración. No se vaya a habitaciones donde el ejecutante está en show privado. Los visitantes siempre tienen habitaciones libres (porque no tienen un equilibrio por muestra).
Cuando los usuarios introducen habitaciones pagadas, mensaje de bienvenida contiene información incluyendo grupo costo por minuto, tiempo de gracia. También una demostración de icono especial pagado modo.
Cuando va a una sala de pagada (Si se habilita desde configuración), usuario no se carga inmediatamente ya que hay un tiempo de gracia (configurable). Si se mueve a la habitación de al lado o chat de cierre antes de tiempo de gracia termine, se produce sin cargo. También mensaje de bienvenida de habitación pagada tiene un icono especial que muestra el pago.
Configuración de back-end incluye seleccionar siguiente sala sólo de habitaciones libre/pagado o en línea. Clientes pueden probar suerte con esta función de ruleta de emparejamiento aleatorio para navegar rápidamente por diferentes artistas, sin salir del chat.
Presentación /
Collaboration Mode
Some projects (tutoring, e-learning, consultas) may require presentation or collaboration features, like exchanging files.
Site can be configured globally to start rooms in presentation/collaboration mode and performers can be allowed to set their room in regular or presentation mode. Presentation mode is available for Advanced PC interface (Flash plugin based for PC browsers) and also enables collaboration mode in HTML5 Videochat interface.
HTML5 Videochat: Colaboración
HTML5 Videochat application enables a Files tab for users to upload and open file.
Registered users can upload, performer can also delete files.
Multiple files can be uploaded at same time with HTML5 drag and drop or selection.
A Tabs section enables multiple tabs like Chat, Camera, Usuarios, Archivos, Presentación, Opciones to use same space. Also performer can see live stream from server, as rest of users for exact performance and quality preview.
Options enable performer to configure split view live (es decir,. 2, 4, 6 slots) where to show users (for video conferencing) or media content (Imágenes, vídeos) for presentation.
Flash Video Chat Messenger

: Presentación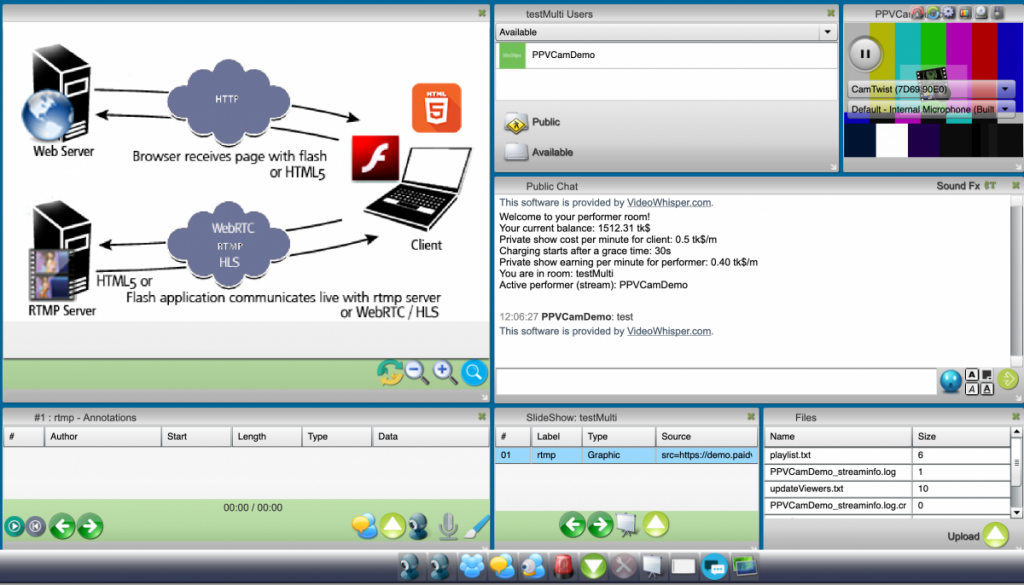 Advanced PC aplicación (Vídeo Mensajero) can be used in presentation mode (a special application mode).
Can be enabled by administrator globally depending on site theme (for collaboration, e-learning, presentation projects) or by each performer for own rooms, if feature is allowed by admins.
This involves a presentation screen and multiple new features like file sharing, presentaciones de diapositivas, Anotaciones, grabación, pizarra.
Performer can select what to show on presentation screen (own or other participant camera, slides with annotations).
Can also open additional video panels to show own or other cameras in addition to presentation screen.
Presentation mode can be used for e-learning classes, consulta, seminars, collaboration sessions, Presentaciones.
Interfaces

, Soporte móvil

Compatibilidad con soluciones 3 types of interfaces (web streaming applications) that can be selected by performer when starting a session (as enabled/configured by admin):
HTML5 Videochat: 1

way group streaming

, 2

way private show requests

, Consejos,

random videochat next button

,

WebRTC streaming

(

default interface

)
Vídeo Mensajero –

Advanced PC interface

(

Flash app

): 1/2

way group streaming

, 2

way private show requests

, Consejos,

presentation/consultation mode

, Transmisión RTMP
HTML5 En directo: 1

way group streaming

, Consejos, WebRTC &

HLS/MPEG streaming

(

transcoded broadcasts from Flash/RTMP

)
These interfaces have different design, capabilities and implement main features with some differences. Turnkey combos on order page include full mode for all interfaces (full mode licensing for all applications).
HTML5 Videochat


HTML5 Videochat app is most recent interface, built to provide advanced interactions using HTML5, without Flash plugin, which makes it compatible with most browsers including iOS Safari, Android Chrome.
1

way group streaming

, en el vestíbulo público
2 forma de videochat,

in private shows

visualización del saldo de la billetera en vivo
consejos con múltiples opciones personalizables, imágenes de regalo
Transmisión retransmitida por WebRTC (fiable y escalable a muchos clientes desde el servidor de streaming, independiente de la conexión de carga del emisor)
Grupo / videochat privado de pago
videochat aleatorio con el botón Siguiente para moverse a la sala de diferentes actores

fullscreen interface or video only

collaboration mode

tasa de bits de vídeo de destino adaptable (dependiendo de la resolución de la cámara)

and broadcasting stats

modo oscuro /

lights on each user can toggle live at runtime

El uso de la interfaz de videochat HTML5 es muy recomendable, ya que los principales navegadores tienen planes de interrumpir el soporte de Flash en 2020.
La interfaz html5 Videochat requiere un nivel 4 Licencia de la aplicación web VideoWhisper, Para habilitar el modo completo sin anuncios ni limitaciones, para uso comercial. Una licencia más baja se puede actualizar por diferencia de precio. El nivel 4 La licencia incluye el modo completo para todas las interfaces de aplicaciones de nivel inferior.
Video Chat Messenger

–

Advanced PC

(Flash)

Video Messenger is the VideoWhisper web app thats most advanced interface using Flash plugin (on PC).
Durante mucho tiempo, Flash fue la única forma confiable de implementar ciertas características de manera confiable, como la transmisión e interacciones de cámara web de baja latencia.. Los desarrolladores de navegadores querían eliminar la dependencia de dichos complementos externos ya que 2010 Pero las tecnologías que podían implementar de manera confiable estas características tardaron mucho tiempo en implementarse.. A medida que la tecnología HTML5 alternativa se vuelve mejor, Hay planes para interrumpir el soporte de Flash en 2020. VideoWhisper solutions are incorporating both new technologies like HTML5, WebRTC, HLS, WebSockets y proporcionar soporte y puentes a características confiables de Flash heredadas, mientras que es compatible con los principales navegadores.
pública (vestíbulo)

group chat with performer live video

privado 2 forma de chat de vídeo
espectáculo solicitud privado, varios chats privados simultáneas
a medida que escribe vista previa

user thumbnail

,

status in list

,

kick/ban

tips with sound notification and message

sound notifications on entry and private request

multiple cameras

(

angles

)

from performer

advanced presentation mode with file sharing

,

multiple cameras

(

from different users

)

as assigned by moderator
Video Messenger interface requires a nivel 3 Licencia de la aplicación web VideoWhisper, Para habilitar el modo completo sin anuncios ni limitaciones, para uso comercial. Purchased license can be upgraded for price difference.
HTML5 En directo

HTML5 Live Streaming interface is mainly for transcodedesd broadcasts done from legacy Flash interface or other RTMP sources. Streams from advanced interface mode are available for mobile users: HTML5 stream of performer webcam is delivered as HLS / DASH after transcoding.
HTML5 Live Streaming interface can also be started by performer, using WebRTC to broadcast/playback. HTML5 Live Streaming solution does not support interactions like requesting private pay per minute show.
HTML5 chat is available for devices that support inline streaming (some will show video stream in full screen so no other elements like chat are available in mobile browser).
Paid group chat is supported with the html chat but HTML5 Videochat App is recommended for better reliability and features.
1

way group live streaming and chat

live wallet balance

custom tips
HTML5 Live Streaming interface requires a nivel 1 Licencia de la aplicación web VideoWhisper, Para habilitar el modo completo sin anuncios ni limitaciones, para uso comercial. Purchased license can be upgraded for price difference.
For advanced functionality including broadcasting mobile camera and live reliable secure interactions, aplicaciones móviles personalizadas can also be developed.
Todas las características
Demostraciones en vivo
Comenzar