Solution can be used in multiple chat modes for referring to interactions
,
features
, Schnittstelle.
Read on this page about: custom room modes, special user modes, zufälliger Videochat, presentation mode, interfaces.
Custom Room Modes

:

Group Videochat Modes

Performer selects room mode when going live.
Administrators can define custom group modes (unlimited number) with different settings from backend, depending on site theme.
Sample group modes : Free/Paid/Platinum, Evaluation/Consultation oder Free/Topless/Nude on adult related sites.
For each mode can configure various settings like cost per minute (0 for free modes), special modes, automated periodic webcam snapshots, archiving webcam stream and automated publishing of archived streams as videos.
Group mode is selected by performer. Performer selects mode when going live (before starting session).
Group PPV: Performer can also start room in paid group mode. All users that enter get charged per minute after a grace time. Group cost per minute can be seen in listings and in room when accessing. Admins can define multiple custom group modes (verflossene: kostenlos, bezahlt, besondere) with different cost per minute and special user modes.
If enabled by admins, performers can define their own custom group pay per minute rate.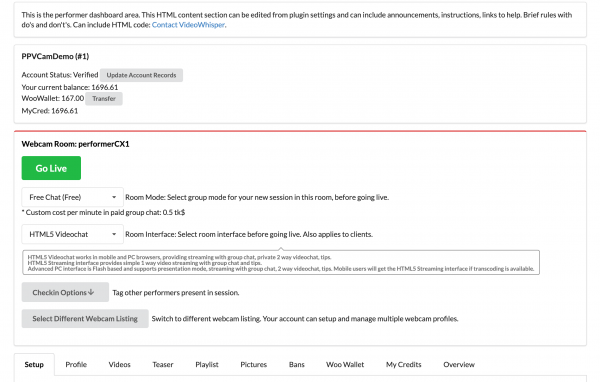 Special User Modes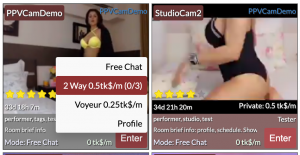 These are selected by user/participant when accessing and existing room. When accessing rooms from webcam listings users can select special modes, that usually involve additional fees:
2 Way Mode: If enabled, a limited number of users can start their webcams during group chat (for easier communication with performer). Only performer can see their stream and they have to pay extra for this privilege. Publishing webcams involves extra server streaming load.
Konfigurieren 2 way slots cost per minute for users in 2 way mode as "2Art und Weise" when defining group modes.
If enabled by admins, performers can define 2way slots for their room.
Voyeur Mode: If enabled, users can watch performers without participating in chat. Also their username during live session is obfuscated. Performer does not know at live name of user who is watching as voyeur, but voyeur username shows in transactions section, after session. Great for clients that want to participate in public sessions but don't want to interact.
Admins can configure cost per minute for users watching as voyeur. Voyeur modes can also be enabled for private shows (so performers pay to see performer private show).
Zufälliger Videochat mit Der Schaltfläche "Weiter"
Ein zufälliges Client-Performer-Matchmaking-System, ähnlich wie Roulette-Videochat-Seiten, ist in der PaidVideochat-Lösung verfügbar, um schnell zwischen den Ausführendenräumen zu wechseln.


Random Viedeochat is available with a Schaltfläche "weiter" in HTML5 Videochat App-Schnittstelle.
Ermöglicht Kunden den schnellen Umzug in einen anderen Ausführendenraum (ohne Chat-interface).
Nebenzimmer von Zimmern vor kurzem aktiv online ausgewählt, durch die Auswahl eines Raumes Benutzer nicht geben oder eingetragen am längsten vor (für die rotation).
Die Schaltfläche Weiter kann verwendet werden, um je nach Einstellung zu verfügbaren kostenlosen oder kostenpflichtigen Zimmern zu navigieren. Wird nicht in Räume navigieren wo Darsteller in privaten Show ist. Besucher bekommen immer freie Zimmer (weil sie keinen Ausgleich für kostenpflichtige shows).
Wenn Benutzer bezahlte Zimmer eingeben, Willkommens-Nachricht enthält Einzelheiten einschließlich Gruppe Kosten pro Minute und Gnade Zeit. Auch bezahlt ein behindertengerechtes Zimmer Symbol wird angezeigt Modus.
Wenn Sie ein bezahltes Zimmer (Wenn Einstellungen aktiviert), Benutzer wird nicht sofort belastet, da gibt es eine Zeit der Gnade (konfigurierbare). Wenn zur nächsten Raum oder Schließung chatten bevor Gnade Zeit endet in Bewegung, Eintritt kostenlos. Bezahltes Zimmer Willkommens-Nachricht hat auch ein spezielles Symbol zeigt Zahlung.
Back-End-Einstellungen umfassen Nebenzimmer frei/bezahlt oder Online-Zimmer nur auswählen. Kunden können ihr Glück mit dieser zufällige Matchmaking Roulette-Funktion können Sie schnell verschiedene Interpreten durchsuchen versuchen., ohne den Chat zu verlassen.
Präsentation /
Collaboration Mode
Some projects (tutoring, E-Learning, Beratungen) may require presentation or collaboration features, like exchanging files.
Site can be configured globally to start rooms in presentation/collaboration mode and performers can be allowed to set their room in regular or presentation mode. Presentation mode is available for Advanced PC interface (Flash plugin based for PC browsers) and also enables collaboration mode in HTML5 Videochat interface.
HTML5 Videochat: Zusammenarbeit
HTML5 Videochat application enables a Files tab for users to upload and open file.
Registered users can upload, performer can also delete files.
Multiple files can be uploaded at same time with HTML5 drag and drop or selection.
A Tabs section enables multiple tabs like Chat, Camera, Benutzer, Dateien, Präsentation, Options to use same space. Also performer can see live stream from server, as rest of users for exact performance and quality preview.
Options enable performer to configure split view live (dh. 2, 4, 6 slots) where to show users (for video conferencing) or media content (Bilder, Videos) for presentation.
Flash Video Chat Messenger

: Präsentation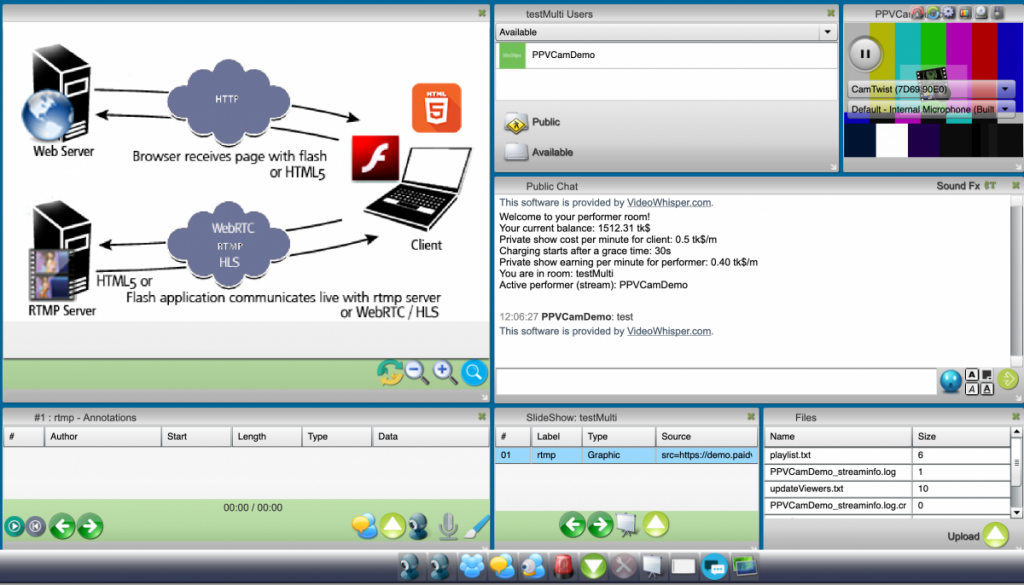 Advanced PC Anwendung (Video Messenger) can be used in presentation mode (a special application mode).
Can be enabled by administrator globally depending on site theme (for collaboration, E-Learning, presentation projects) or by each performer for own rooms, if feature is allowed by admins.
This involves a presentation screen and multiple new features like file sharing, Diashows, Anmerkungen, Aufzeichnung, Whiteboard.
Performer can select what to show on presentation screen (own or other participant camera, slides with annotations).
Can also open additional video panels to show own or other cameras in addition to presentation screen.
Presentation mode can be used for e-learning classes, Beratung, seminars, collaboration sessions, Darbietungen.
Interfaces

,

Mobile Support

Lösungsunterstützung 3 types of interfaces (web streaming applications) that can be selected by performer when starting a session (as enabled/configured by admin):
HTML5 Videochat: 1

way group streaming

, 2

way private show requests

, Tipps,

random videochat next button

,

WebRTC streaming

(

default interface

)
Video Messenger –

Advanced PC interface

(

Flash app

): 1/2

way group streaming

, 2

way private show requests

, Tipps,

presentation/consultation mode

, RTMP-Streaming
HTML5 Live-Streaming: 1

way group streaming

, Tipps, WebRTC &

HLS/MPEG streaming

(

transcoded broadcasts from Flash/RTMP

)
These interfaces have different design, capabilities and implement main features with some differences. Turnkey combos on order page include full mode for all interfaces (full mode licensing for all applications).
HTML5 Videochat


HTML5 Videochat app is most recent interface, built to provide advanced interactions using HTML5, without Flash plugin, which makes it compatible with most browsers including iOS Safari, Android Chrome.
1

way group streaming

, in der öffentlichen Lobby
2 Weg Videochat,

in private shows

Live-Wallet-Guthabenanzeige
Tipps mit mehreren anpassbaren Optionen, Geschenkbilder
WebRTC-Relay-Streaming (zuverlässig und skalierbar für viele Clients vom Streaming-Server, unabhängig von der Broadcaster-Upload-Verbindung)
Gruppe / privater kostenpflichtiger Videochat
zufälliger Videochat mit der Schaltfläche Weiter, um in einen anderen Performer-Raum zu wechseln

fullscreen interface or video only

collaboration mode

Adaptive Zielvideo-Bitrate (abhängig von der Nockenauflösung)

and broadcasting stats

Dunkler Modus /

lights on each user can toggle live at runtime

Die Verwendung der HTML5-Videochat-Schnittstelle wird dringend empfohlen, da die wichtigsten Browser planen, die Flash-Unterstützung in 2020.
HTML5 Videochat Schnittstelle erfordert eine Niveau 4 VideoWhisper Web-App-Lizenz, Um den voll ausgestatteten Modus ohne Werbung und Einschränkungen zu aktivieren, für kommerzielle Nutzung. Eine niedrigere Lizenz kann für Preisdifferenz aktualisiert werden. Das Niveau 4 Lizenz beinhaltet vollen Modus für alle Untergeordneten App-Schnittstellen.
Video Chat Messenger

–

Advanced PC

(

Flash

)

Video Messenger is the VideoWhisper web app thats most advanced interface using Flash plugin (on PC).
Flash war lange Zeit die einzige zuverlässige Möglichkeit, bestimmte Funktionen wie Webcam-Broadcast und Interaktionen mit niedriger Latenz zuverlässig zu implementieren. Browserentwickler wollten die Abhängigkeit von solchen externen Plugins entfernen, da 2010 Technologien, die diese Funktionen zuverlässig implementieren konnten, brauchten jedoch sehr lange, um implementiert zu werden. Wenn alternative HTML5-Technologie besser wird, Es gibt Pläne, die Flash-Unterstützung in 2020. VideoWhisper solutions are incorporating both new technologies like HTML5, WebRTC, HLS, WebSockets und bieten Support und Brücken zu zuverlässigen Legacy-Flash-Funktionen, wird von den gängigen Browsern unterstützt.
Öffentlichkeit (Lobby)

group chat with performer live video

privat 2 Wege-Video-Chat
private Show Anfrage, mehrere gleichzeitige private Chats
während der Eingabe Vorschau

user thumbnail

,

status in list

,

kick/ban

tips with sound notification and message

sound notifications on entry and private request

multiple cameras

(

angles

)

from performer

advanced presentation mode with file sharing

,

multiple cameras

(

from different users

)

as assigned by moderator
Video Messenger interface requires a Niveau 3 VideoWhisper Web-App-Lizenz, Um den voll ausgestatteten Modus ohne Werbung und Einschränkungen zu aktivieren, für kommerzielle Nutzung. Purchased license can be upgraded for price difference.
HTML5 Live-Streaming

HTML5 Live Streaming interface is mainly for transcodedesd broadcasts done from legacy Flash interface or other RTMP sources. Streams from advanced interface mode are available for mobile users: HTML5 stream of performer webcam is delivered as HLS / DASH after transcoding.
HTML5 Live Streaming interface can also be started by performer, using WebRTC to broadcast/playback. HTML5 Live Streaming solution does not support interactions like requesting private pay per minute show.
HTML5 chat is available for devices that support inline streaming (some will show video stream in full screen so no other elements like chat are available in mobile browser).
Paid group chat is supported with the html chat but HTML5 Videochat App is recommended for better reliability and features.
1

way group live streaming and chat

live wallet balance

custom tips
HTML5 Live Streaming interface requires a Niveau 1 VideoWhisper Web-App-Lizenz, Um den voll ausgestatteten Modus ohne Werbung und Einschränkungen zu aktivieren, für kommerzielle Nutzung. Purchased license can be upgraded for price difference.
For advanced functionality including broadcasting mobile camera and live reliable secure interactions, Benutzerdefinierte mobile Apps can also be developed.
All Features
Live-Demos
Loslegen