Solution can be used in multiple chat modes for referring to interactions
, Característiques,
interface
.
Llegiu en aquesta pàgina sobre: custom room modes, special user modes, videoxat aleatori, presentation mode, interfaces.
Custom Room Modes

:

Group Videochat Modes

Performer selects room mode when going live.
Administrators can define custom group modes (unlimited number) with different settings from backend, depending on site theme.
Sample group modes : Free/Paid/Platinum, Evaluation/Consultation o Free/Topless/Nude on adult related sites.
For each mode can configure various settings like cost per minute (0 for free modes), special modes, automated periodic webcam snapshots, archiving webcam stream and automated publishing of archived streams as videos.
Group mode is selected by performer. Performer selects mode when going live (before starting session).
Group PPV: Performer can also start room in paid group mode. All users that enter get charged per minute after a grace time. Group cost per minute can be seen in listings and in room when accessing. Admins can define multiple custom group modes (ex: lliure, paid, especial) with different cost per minute and special user modes.
If enabled by admins, performers can define their own custom group pay per minute rate.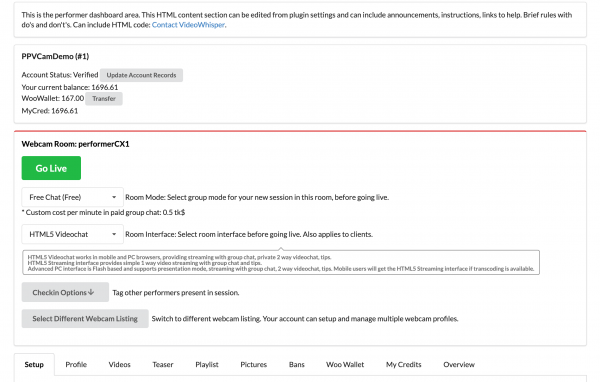 Special User Modes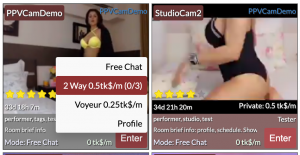 These are selected by user/participant when accessing and existing room. When accessing rooms from webcam listings users can select special modes, that usually involve additional fees:
2 Way Mode: If enabled, a limited number of users can start their webcams during group chat (for easier communication with performer). Only performer can see their stream and they have to pay extra for this privilege. Publishing webcams involves extra server streaming load.
Configure 2 way slots cost per minute for users in 2 way mode as "2way" when defining group modes.
If enabled by admins, performers can define 2way slots for their room.
Voyeur Mode: If enabled, users can watch performers without participating in chat. Also their username during live session is obfuscated. Performer does not know at live name of user who is watching as voyeur, but voyeur username shows in transactions section, after session. Great for clients that want to participate in public sessions but don't want to interact.
Admins can configure cost per minute for users watching as voyeur. Voyeur modes can also be enabled for private shows (so performers pay to see performer private show).
Videoxat aleatori amb botó següent
Un sistema de matchmaking client-intèrpret aleatori, similar als llocs de videoxat temàtics de ruleta, està disponible en solució PaidVideochat per moure's ràpidament entre sales d'intèrprets.


Random Viedeochat is available with a Botó següent in HTML5 Videochat App interface.
Permet als clients traslladar-se ràpidament a una sala d'intèrprets diferent (sense sortir de la interfície de xat).
L'habitació del costat se selecciona d'habitacions recentment actives en línia, en triar una habitació, l'usuari no va entrar ni va entrar fa molt de temps (per a la rotació).
El botó Següent es pot utilitzar per navegar a les habitacions disponibles de forma gratuïta o de pagament en funció de la configuració. No navegarà a les sales on l'intèrpret està en un espectacle privat. Els visitants sempre tenen habitacions gratuïtes (perquè no tenen saldo per a espectacles de pagament).
Quan els usuaris entren a les habitacions de pagament, El missatge de benvinguda contindrà detalls, incloent el cost del grup per minut i el temps de gràcia. També una icona especial de l'habitació que mostra el mode de pagament.
Quan vas a una habitació de pagament (si està habilitada des de la configuració), L'usuari no es cobra immediatament, ja que hi ha un temps de gràcia (Configurable). Si es mouen a l'habitació del costat o tanquen el xat abans que acabi l'hora de gràcia, No es produeix cap càrrega. També el missatge de benvinguda de l'habitació de pagament té una icona especial que mostra el pagament.
La configuració del dorsal inclou la selecció de l'habitació del costat només des d'habitacions gratuïtes / de pagament o en línia. Els clients poden provar sort amb aquesta característica de ruleta de matchmaking aleatori per navegar ràpidament per diferents intèrprets, Sense sortir del xat.
Presentation

/

Collaboration Mode

Some projects (tutoring, e-learning, consultations) may require presentation or collaboration features, like exchanging files.

Site can be configured globally to start rooms in presentation/collaboration mode and performers can be allowed to set their room in regular or presentation mode. Presentation mode is available for Advanced PC interface (Flash plugin based for PC browsers) and also enables collaboration mode in HTML5 Videochat interface.
Videoxat HTML5: Col·laboració
Videoxat HTML5 application enables a Files tab for users to upload and open file.
Registered users can upload, performer can also delete files.
Multiple files can be uploaded at same time with HTML5 drag and drop or selection.
A Tabs section enables multiple tabs like Chat, Camera, Usuaris, fitxers, Presentation, Opcions to use same space. Also performer can see live stream from server, as rest of users for exact performance and quality preview.
Options enable performer to configure split view live (ie. 2, 4, 6 slots) where to show users (for video conferencing) or media content (Imatges, Vídeos) for presentation.
Flash Video Chat Messenger

:

Presentation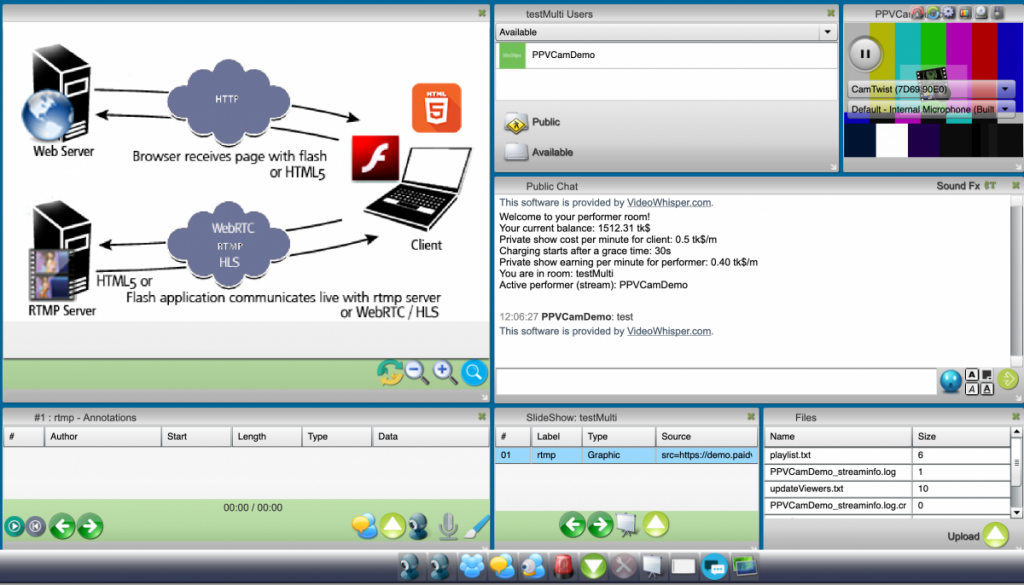 Advanced PC application (Video Messenger) can be used in presentation mode (a special application mode).
Can be enabled by administrator globally depending on site theme (for collaboration, e-learning, presentation projects) or by each performer for own rooms, if feature is allowed by admins.
This involves a presentation screen and multiple new features like file sharing, slideshows, annotations, enregistrament, whiteboard.
Performer can select what to show on presentation screen (own or other participant camera, slides with annotations).
Can also open additional video panels to show own or other cameras in addition to presentation screen.
Presentation mode can be used for e-learning classes, consultation, seminars, collaboration sessions, Presentacions.
Interfaces

, Suport mòbil

Solution supports 3 types of interfaces (web streaming applications) that can be selected by performer when starting a session (as enabled/configured by admin):
Videoxat HTML5: 1

way group streaming

, 2

way private show requests

,

tips

,

random videochat next button

,

WebRTC streaming

(

default interface

)

Video Messenger

–

Advanced PC interface

(

Flash app

): 1/2

way group streaming

, 2

way private show requests

,

tips

,

presentation/consultation mode

,

RTMP streaming

HTML5 streaming en viu: 1

way group streaming

,

tips

,

WebRTC

&

HLS/MPEG streaming

(

transcoded broadcasts from Flash/RTMP

)
These interfaces have different design, capabilities and implement main features with some differences. Turnkey combos on order page include full mode for all interfaces (full mode licensing for all applications).
Videoxat HTML5


HTML5 Videochat app is most recent interface, built to provide advanced interactions using HTML5, without Flash plugin, which makes it compatible with most browsers including iOS Safari, Android Chrome.
1

way group streaming

, Al lobby públic
2 forma videoxat,

in private shows

visualització del saldo de la cartera en viu
Consells amb múltiples opcions personalitzables, imatges de regal
WebRTC retransmet la transmissió (fiable i escalable per a molts clients des del servidor de streaming, independentment de la connexió de càrrega de l'emissora)
grup / videoxat de pagament privat
videoxat aleatori amb botó Següent per passar a diferents sala d'intèrprets

fullscreen interface or video only

collaboration mode

taxa de bits de vídeo objectiu adaptatiu (Depenent de la resolució de la CÀMERA)

and broadcasting stats

mode fosc /

lights on each user can toggle live at runtime

L'ús de la interfície de videoxat HTML5 és molt recomanable, ja que els principals navegadors tenen plans per interrompre el suport de Flash en 2020.
La interfície de Videoxat HTML5 requereix un nivell 4 Llicència d'aplicació web VideoWhisper, per habilitar el mode complet sense anuncis i limitacions, Per a ús comercial. Es pot actualitzar una llicència més baixa per diferència de preu. El nivell 4 la llicència inclou el mode complet per a totes les interfícies d'aplicació de nivell inferior.
Video Chat Messenger

–

Advanced PC

(

Flash

)

Video Messenger is the VideoWhisper web app thats most advanced interface using Flash plugin (on PC).
For a long time Flash was the only reliable way to implement certain features reliably like low latency webcam broadcast and interactions. Els desenvolupadors de navegador volien eliminar la dependència d'aquests connectors externs des 2010 però les tecnologies que podrien implementar de manera fiable aquestes característiques van trigar molt temps a ser implementades. Com la tecnologia alternativa HTML5 es converteix en millor, hi ha plans per discontinuar suport de flaix en 2020. VideoWhisper solutions are incorporating both new technologies like HTML5, WebRTC, HLS, WebSockets i proporcionar suport i ponts a funcions de flash de llegat fiable, mentre està suportat pels principals navegadors.
public

(

lobby

)

group chat with performer live video

private

2

way video chat

private show request

,

multiple simultaneous private chats

as you type preview

user thumbnail

,

status in list

,

kick/ban

tips with sound notification and message

sound notifications on entry and private request

multiple cameras

(

angles

)

from performer

advanced presentation mode with file sharing

,

multiple cameras

(

from different users

)

as assigned by moderator
Video Messenger interface requires a nivell 3 Llicència d'aplicació web VideoWhisper, per habilitar el mode complet sense anuncis i limitacions, Per a ús comercial. Purchased license can be upgraded for price difference.
HTML5 streaming en viu

HTML5 Live Streaming interface is mainly for transcodedesd broadcasts done from legacy Flash interface or other RTMP sources. Streams from advanced interface mode are available for mobile users: HTML5 stream of performer webcam is delivered as HLS / DASH after transcoding.
HTML5 Live Streaming interface can also be started by performer, using WebRTC to broadcast/playback. HTML5 Live Streaming solution does not support interactions like requesting private pay per minute show.
HTML5 chat is available for devices that support inline streaming (some will show video stream in full screen so no other elements like chat are available in mobile browser).
Paid group chat is supported with the html chat but HTML5 Videochat App is recommended for better reliability and features.
1

way group live streaming and chat

live wallet balance

custom tips
HTML5 Live Streaming interface requires a nivell 1 Llicència d'aplicació web VideoWhisper, per habilitar el mode complet sense anuncis i limitacions, Per a ús comercial. Purchased license can be upgraded for price difference.
For advanced functionality including broadcasting mobile camera and live reliable secure interactions, custom mobile apps can also be developed.
All Features
Demostracions en directe
Començar